As wedding celebrations ramp up again, couples are ready to celebrate and we're seeing a growing trend of bold colors accenting their big day. From the attire to the invitations, we're seeing bright pops of "joyful expression" as well as full-scale, mood-boosting palettes.
Let's talk about the five places you'll see bolder colors at weddings in 2021.
WHERE YOU'LL SEE BOLD COLORS AT WEDDINGS NEXT YEAR
While every couple is different and has a unique reason for their color selections, we're seeing a growing number of brides and grooms opt for curated pops of bold colors for their wedding design.
Here are the five places you'll see this trend —
1. Colorful Groom's Suits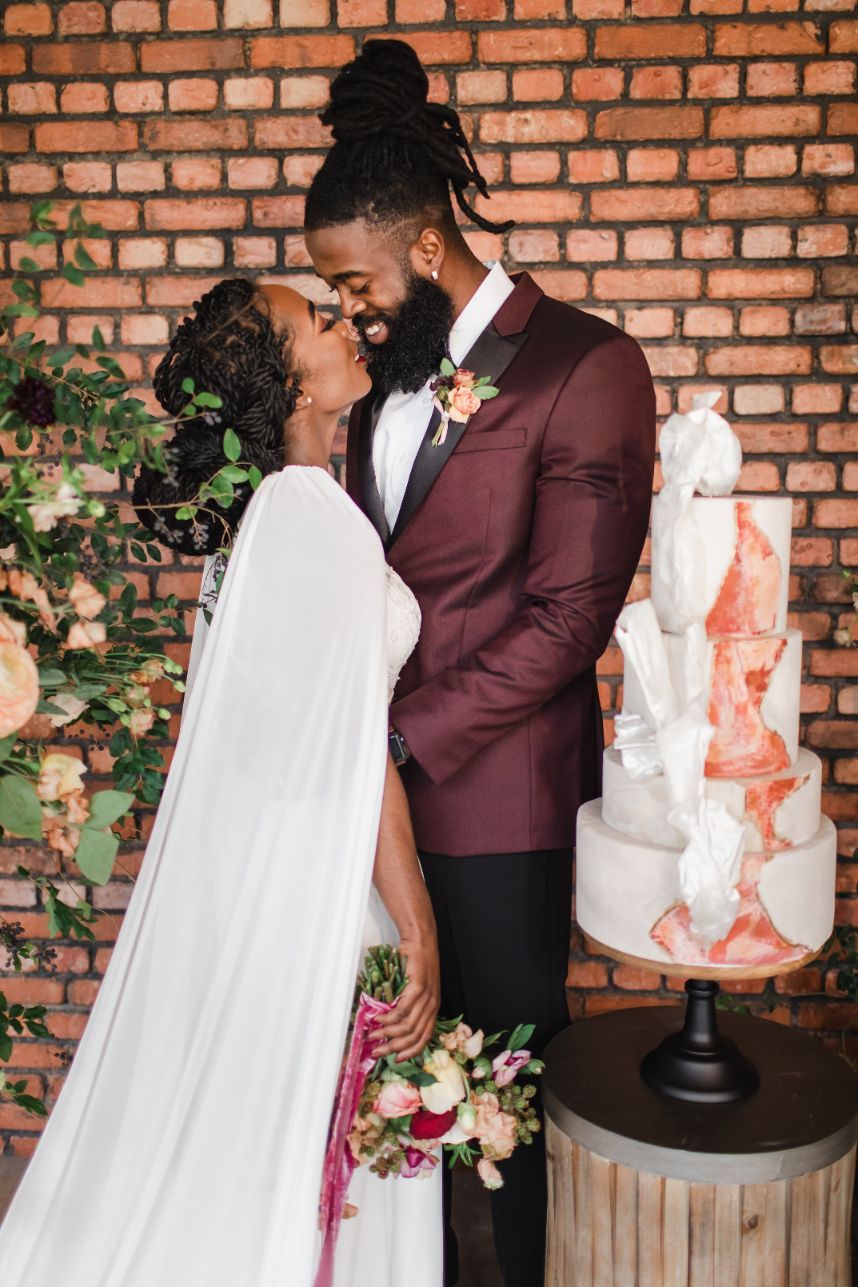 Photo by BLVD Photography via Brides of Houston
Designers have been leveling up the groom's suit this season and the results are exciting! While bright suits have been trending since 2018, we're seeing an influx of statement suits in burgundy or wine as well as a range of blues.
According to Dress Trends, "Classic black won't go anywhere from men's wedding suits 2021 trends, but it will give way to bright colors: blue or burgundy. For those who want to look bright, stylists recommend staying on soft Bordeaux or a classic wine hue." 
They forecast that the colorful groom's suit trend – a la '80s (according to the law of cyclical fashion) will return in 2021 and men will be looking luxe.
"Although the wedding suit is a rather traditional dress, it doesn't have to look strictly and primly. Modern models allow the groom to choose a suit for every taste. Bright and juicy shades are also welcome, and with proper cut, they will look incredibly elegant and festive. The most popular hues of wedding suits in 2021: white, lilac, and deep blue. These colors are trendy because they will be perfectly combined with boutonniere and the bride's bouquet in delicate pastel colors."
2. Bright and Cheerful Table Settings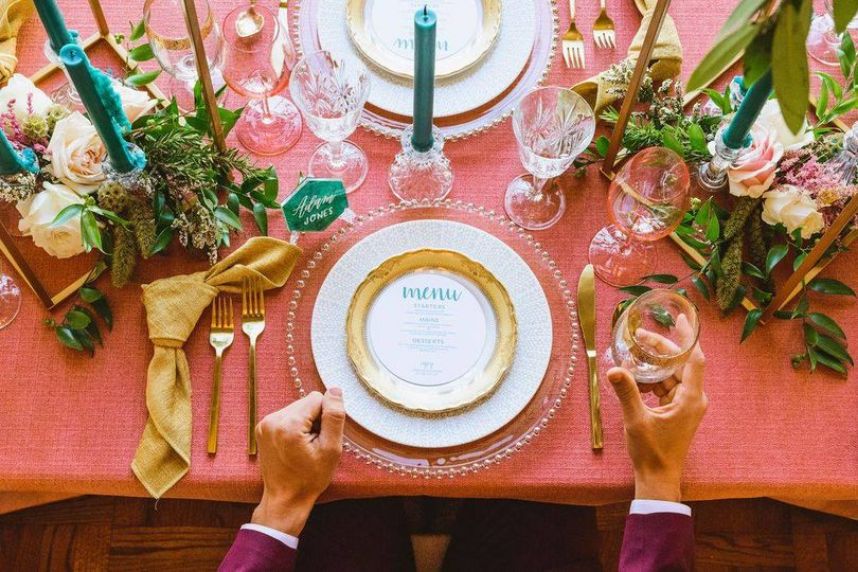 Photo by Ashley Sunderland Photography
Designers and couples alike have been selecting bolder colors for everything from the dinner service to the table's decor. From the luxe metallics to the cheerful pops of bright colors, don't be afraid to jump on this trend with your own interpretation.
Bold colors don't always come solely in solids, either. Another way to adapt this trend to fit your aesthetic is bold patterns on your linens.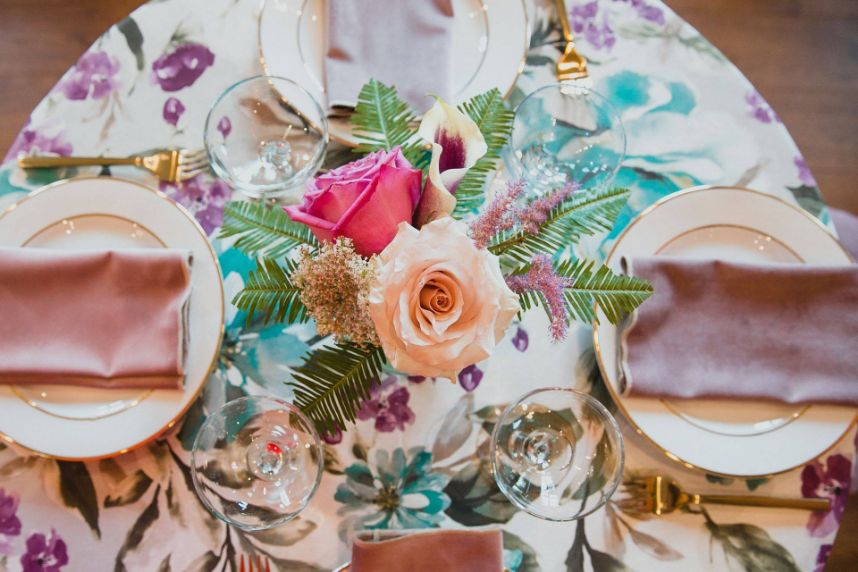 Photo by CHOATE HOUSE
Spring/Summer 2021 is all about watercolor-style florals, so there are lots of great opportunities to infuse some fun for guests and couples at their table.
3. Jewel-Toned Bridesmaid's Dresses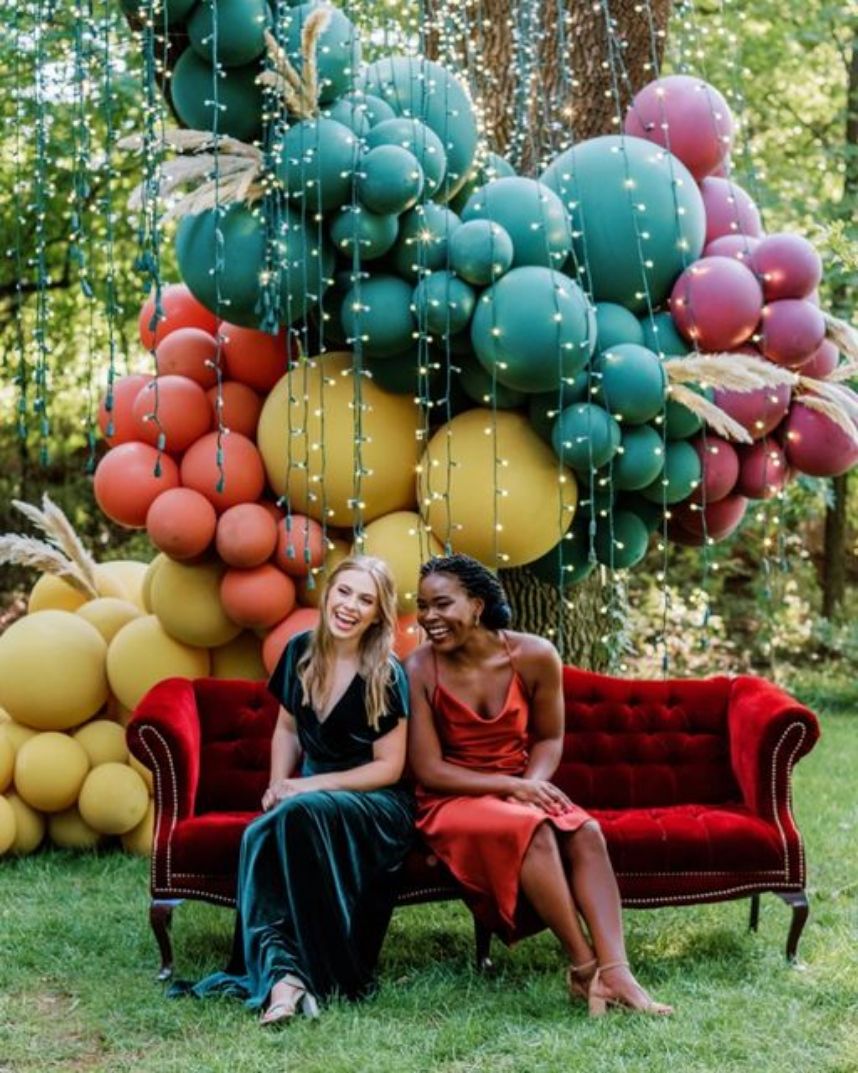 Photo Courtesy of Opulent Couture Balloons
When it comes to the bride tribe, expect to see a few more bold colors — dramatic shades of jewel as well as a few intense earth tones.
Keep an eye out for bold colors in velvet. For the last few years, velvet has been trending and it will be going strong in 2021 thanks to the push for more cozy, comfy fabrics. Elegantly draped velvet gowns in shades of wine, emerald, and ochre will be making a beautiful pop next to ethereal brides.
4. Brightly Colored Wedding Food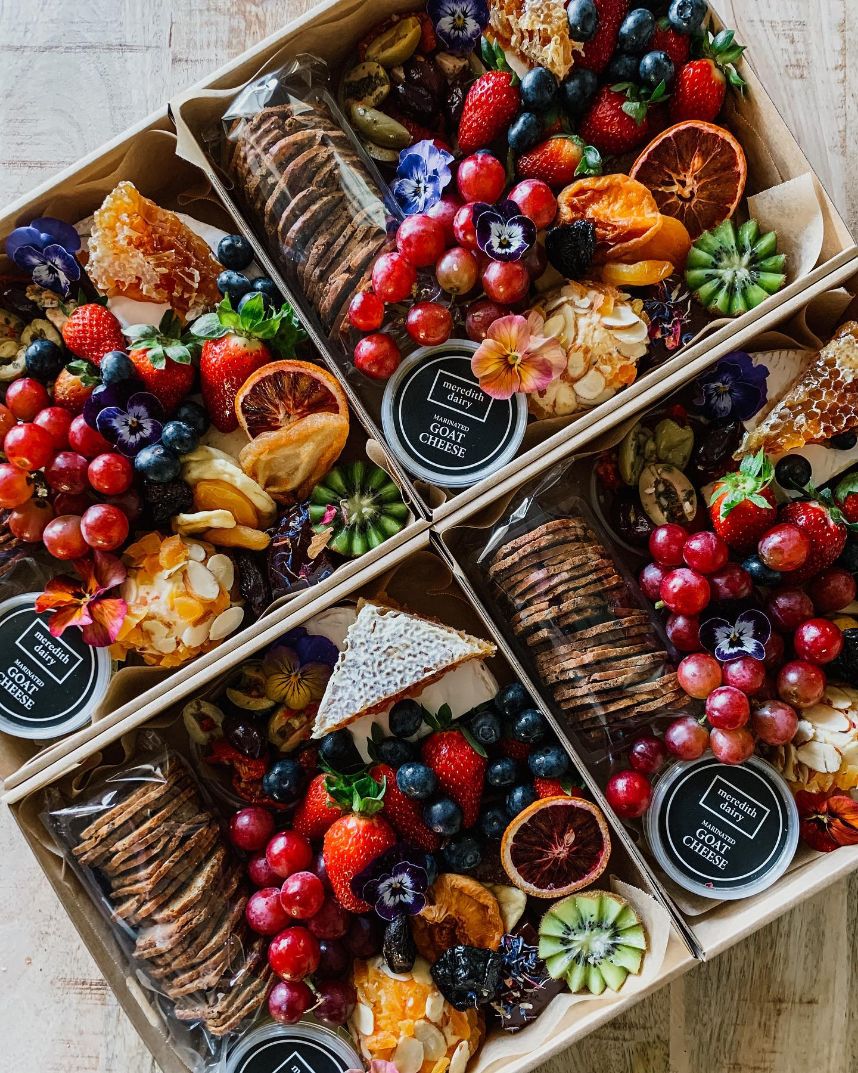 Photo Courtesy of Graze Gourmet Palette Co.
This is definitely the tastiest trend on the list! Thanks to the ever-growing popularity of charcuterie boards, boxes, and grazing tables, expect to see wedding food as visually stunning as it is delicious.
These displays have become as much part of the wedding design as anything else. It's a delight for the senses and this trend looks like it will be staying around for a while.
5. Insanely Bold, Show-stopping Wedding Flowers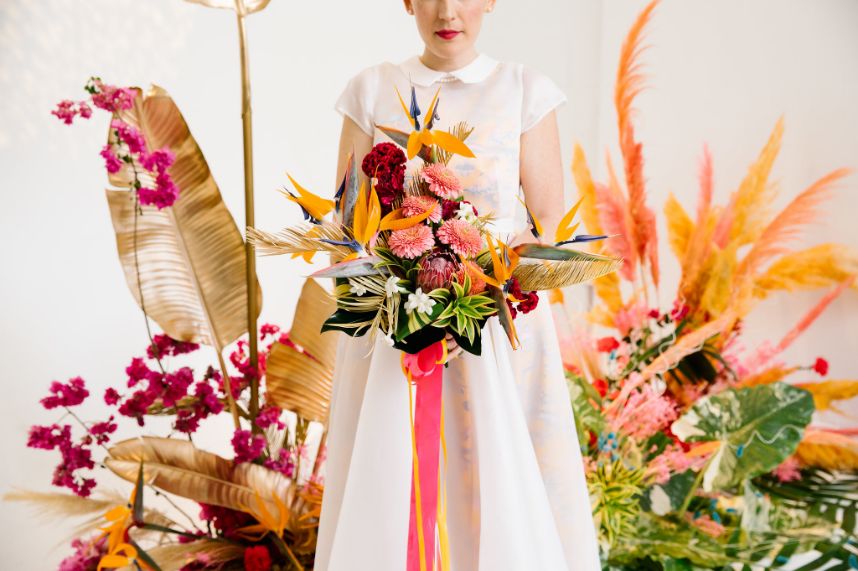 Photo Courtesy of Inessa Nichols Design
While blushed and earth tones are quite popular in florals at the moment, there's also a trend towards hyper-toned, brightly colored blooms. This tropically-inspired real wedding is an example of bright pops of color bringing a mood-boosting jolt while not being overpowering.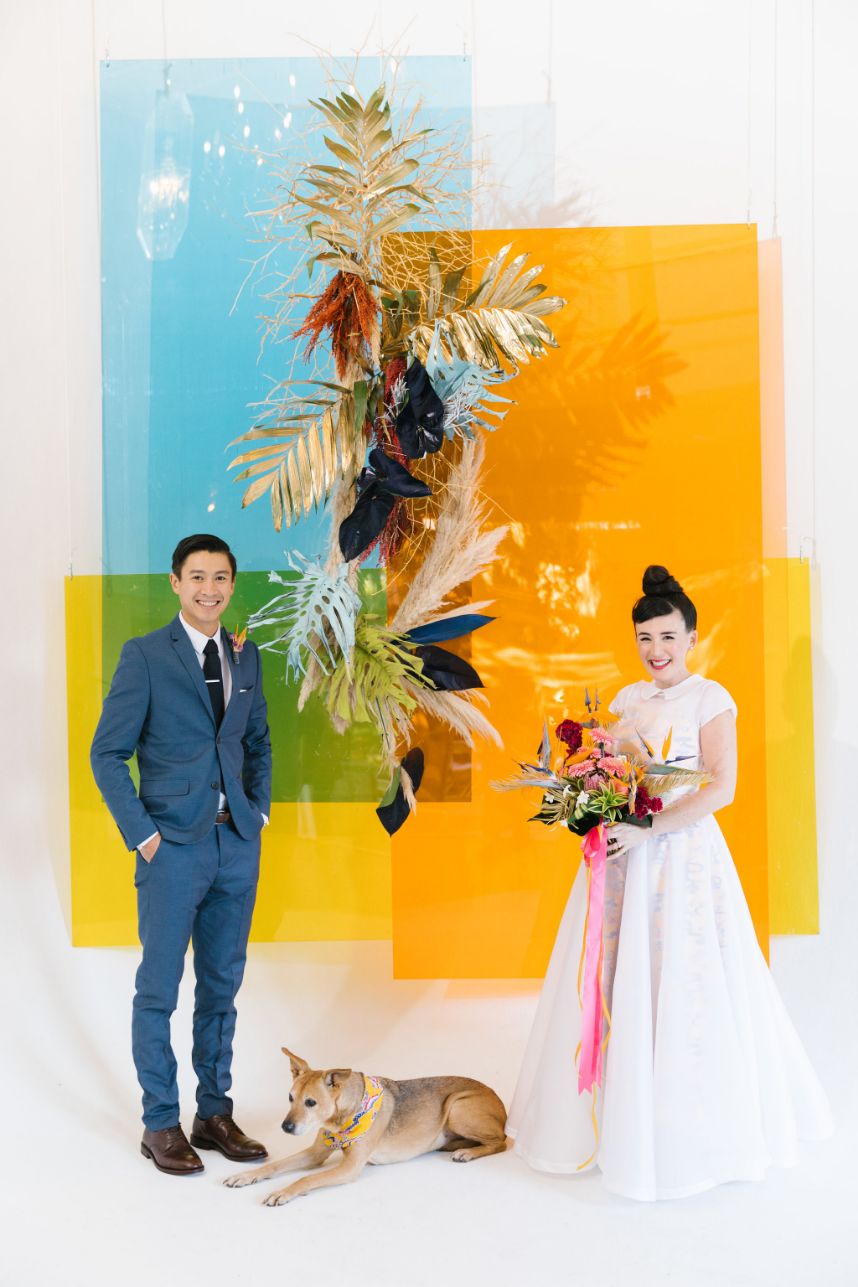 Photo Courtesy of Inessa Nichols Design
Like a visual shot of vitamin C, bold colors in floral design is the quickest way to get everyone feeling happy!
BONUS: Colorful Bridal Gowns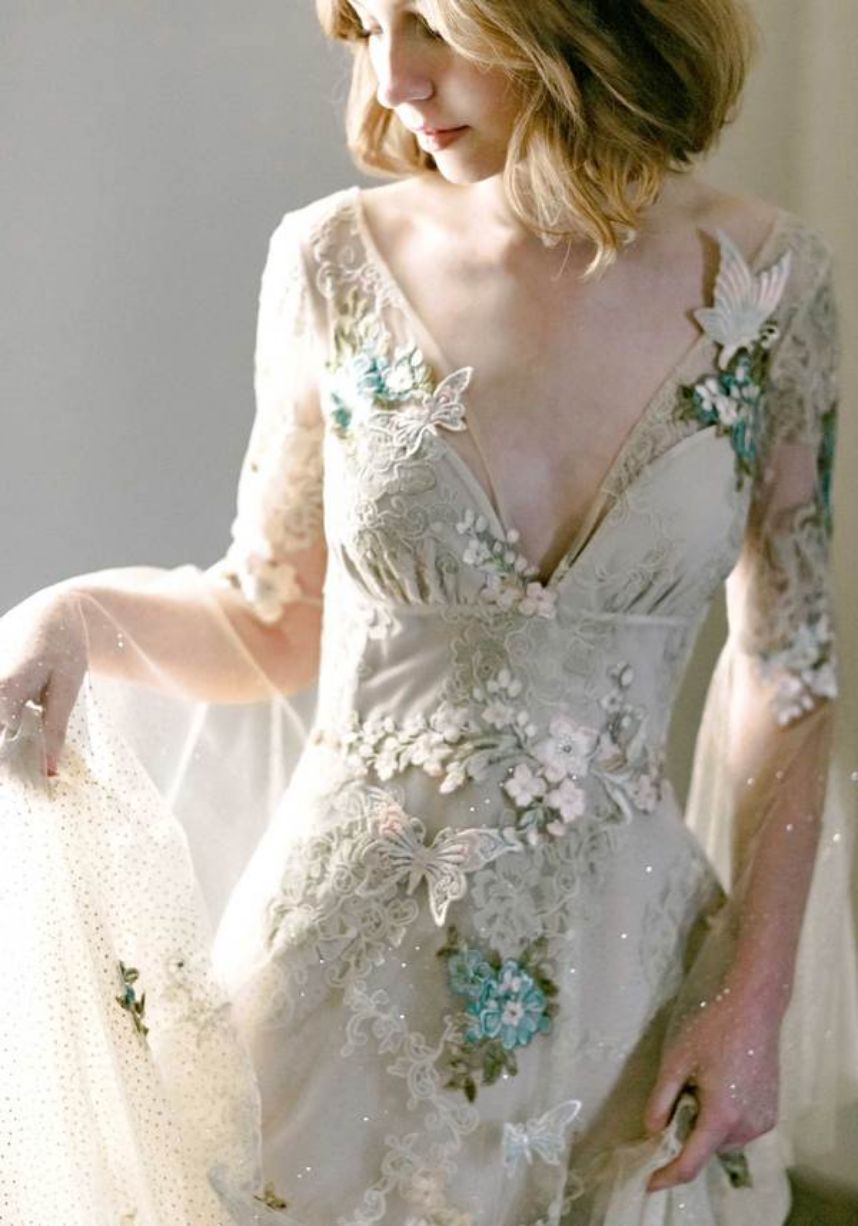 Photo Courtesy of Claire Pettibone
This is a bonus trend because it's more about bold touches of color or patterns. And it's more of a bold move because it deviates from the traditional white and ivory gowns. Nonetheless, these bridal gowns are definitely for the bride that isn't afraid to make a statement — no matter what it is.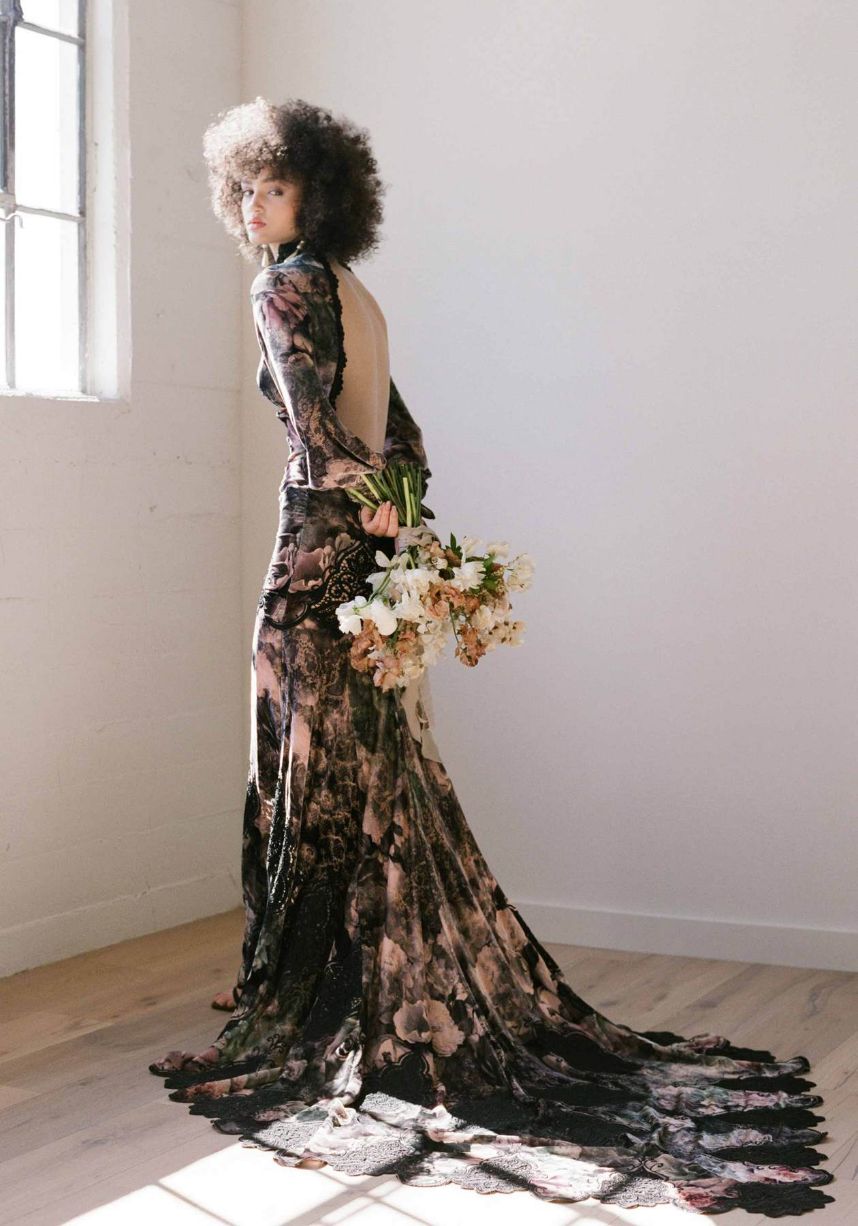 Photo Courtesy of Claire Pettibone
You can expect to see many iterations of the ethereal (2021 buzzword) bride. A great example of this trend comes from Claire Pettibone this season— from the Chrysalis gown with its floral appliques to the Pheonix gown with its bold color and full floral pattern.
Are you in love with all these bright colors? See what else is on the radar for the wedding industry in 2021. Don't miss our comprehensive floral wedding trends forecast for 2021!
__
Photo Courtesy of Inessa Nichols Design
Written by Corrie McGee