Creating content can feel like the bane of the wedding pro's existence. However, the fact of the matter is that content creation is an important part of the job. It can help wedding clients find you, reduce redundant tasks for you, and win more business. But it's not a one-size-fits-all solution. You have to find what works for you with your unique service, personality, and perspective. We've enlisted the help of wedding planner Jamie Wolfer to share her insights from her experience going from not having a YouTube channel to having 94K subscribers in three years and a video that has reached 500K views.
MEET WEDDING PLANNER AND YOUTUBE CREATOR — JAMIE WOLFER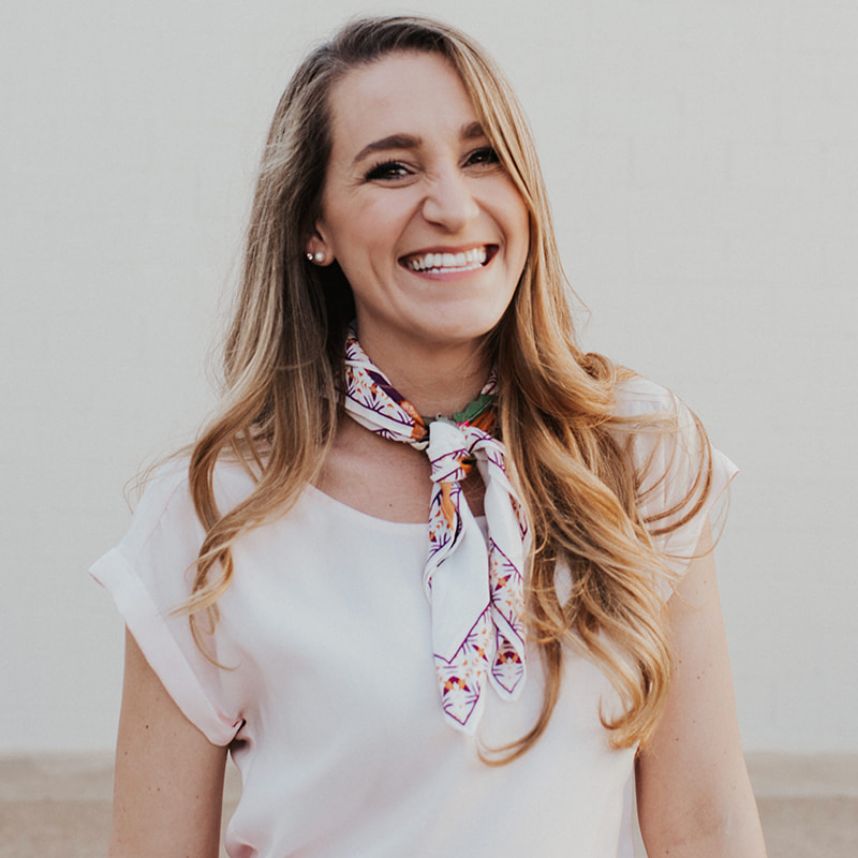 Photo Courtesy of Erika Vieira
Jamie Wolfer started her career as a wedding planner after falling in love with the process of planning her own wedding. She learned the skill of hostessing from a mother who "…could put Martha Stewart to shame". Her first career was working in interior design, which has only strengthened her ability to design and plan events. Since starting her new venture, JW Coordination has grown to include multiple designers and an ever-increasing network of wedding planning resources from a course to a podcast and more.
While planning is her passion, vlogging is her special talent! Her combination of a naturally bubbly demeanor with a tell-it-to-you-straight personality seems to resonate with couples. In her videos, Jamie sits at the end of a vintage-style bed in a charmingly-styled room and gives off the impression of simply having a chat with a friend…if that friend were an expert wedding planner.
She initially launched a YouTube channel to help answer questions for her own clients with the hope that it would also help others and reduce the planning intimidation engaged couples often have.
Her mission statement for her videos is that every couple deserves the help of a wedding planner even if they can't afford one. Today, Jamie's top-performing video has half a million views and her average video gets around 30K.
(Here's the video that garnered the half a million views. It was one of her first videos.)
Jamie and her husband, along with their children recently moved from California to begin a new adventure in Texas — which includes bringing JW Coordination to the Lone Star State! (Keep scrolling to find out how the transition has been as a wedding planner — and more!)
CONTENT Q&A WITH WEDDING PLANNER — JAMIE WOLFER
While every wedding pro has to chart their own content creation path, it's valuable to know how others succeeded in finding their unique niche. That's why we've asked Jamie Wolfer to share insights from her content creation journey.
(Don't miss her top tips for creating content that is authentic to you!)
You have established such an incredible relationship with brides/couples with your Youtube content. Can you share how you got started? Did you have a plan or was it simply answering your F.A.Qs etc.?
Oh, there was no plan. None whatsoever. I was literally flying by the seat of my pants for the first 6-12 months on YouTube, and sometimes it still feels like I am to this day! There isn't really a pattern to my videos, only an occasional series, and none of it is organized in a comprehensive manner.
My intent was to pull back the curtain on behind the scenes so couples could make much more educated decisions on and surrounding their weddings, but it turned into so much more.
How do you come up with the topics that you create content for? (Have your methods changed over the years?)
Oh boy. The dreaded content creation. It has been a journey, I'll tell you that! I always think I am going to run out of ideas, but somehow they keep coming.
In the beginning, I would find myself scrolling through Pinterest and wedding blogs to see if a title sparked or inspired something within me. Usually if it did, I would sit and brainstorm talking points for an hour or so, then proceed with filming. It was important to not plagiarize, of course, but instead collect and organize my own opinion and experiences on the topic at hand.
Today, I find inspiration from clients and subscribers. I see and listen to their pain points, and look for ways for them to overcome those details. Sometimes when I'm in a real rut, I'll go back to my Pinterest fishing, but for the most part, our followers tell me what they want or need to see!
How long was the journey from starting your YouTube channel to launching your first course — and did you always know where you wanted to go with your content or is this a bit of a surprise to you?
From YouTube launch date to course completion was around 2.5 years. I knew for quite some time that I wanted to create a course. Even though the videos on my channel provided a ton of support, there were quite a few gaps I wanted to fill, as well as forms and PDFs and spreadsheets (because who doesn't love a good spreadsheet??). I probably sat on this course idea for a good 12 months before I even started filming it, actually.
What are your top tips or recommendations on how wedding vendors can create relevant content — ultimately, content that helps them book clients — in a way that is authentic to them?
People do business with people. That is doubly true with weddings! We are in an emotional business, whether we like it or not, and what separates us from a 'competitor' is our ability to connect with our clients. We see that in sales call conversions, click-through-rates, Instagram engagement – the list goes on. When we show them who we are and what we are about, a client has the ability to make much more educated decisions.
When it comes to creating and sharing relevant content, call out pain points and offer solutions. If you're a photographer, you know sometimes clients stress over engagement shoot locations. Perhaps you can do a blog post on Top 10 Engagement Shoot Spots in Houston! A caterer? Do an Instagram highlight on the most popular appetizers you offer. A DJ could share weekly links to his or her favorite Spotify playlists.
All of the above ideas address pain points, meaning things your potential clients are worried or stressed about. By rounding up a fun list of options, you're taking out some of the guesswork. You're also offering this information for free, which in turn endears them to you.
If they're going to book a DJ, and they're torn between you and someone else at the same price point with the same offerings, they will likely pick the one whom they know better than the other, and that's you!
As far as showing up, simply do so in a way that is true to you. Video is an incredible tool, and obviously I wouldn't be where I am today without it. I've had countless clients say that they booked my company because they already knew me, which is incredible! Of course, YouTube is a big leap to video connection, so start with Instagram stories. They're short, easily refilmed and edited, and quick to consumer, which is perfect!
If video isn't your thing, consider blogging in written form. Not only is it epic for SEO, but it helps potential clients get to know you in a different way. You could also build out a pretty cool email list. Bonus points? Work in some affiliate links for additional income!
Hate writing? Share resources from other blogs that resonate with you, and share why you like them! Couples will connect with you through your opinion, too.
What is the most common mistake you see wedding vendors make when it comes to their content — and how can they avoid that?
The most common mistake? Not doing it! There are so many avenues to create, and yet many don't take advantage of them.
In addition, once they start, a lack of consistency. Don't say you're going to do a weekly blog if you don't fully commit to it! There's no shame in starting slow, but make sure your followers will know how and when you will show up for them.
Trust me, I know firsthand how hard it is to get started! Sometimes you're just not ready.
But when you are, the way you do business and the clients you attract will slowly change into the beautiful career you've always wanted. On that day, you'll look back and wonder why you didn't start sooner!
How has the transition been as a wedding planner going from the California market to Texas?
Our transition from CA to TX has been relatively seamless, which is incredible! We credit a lot of that to our YouTube audience and their incredible support. As soon as we announced our transition, we had immediate inquiries, which is unbelievably cool and simultaneously humbling.
(Here's Jamie sharing more about her transition.)
I haven't noticed many drastic changes between the markets yet, no, but we've only done a handful of events out here. Wedding guest attire definitely sports a lot more cowboy hats and exotic leather boots, but in general, the experience feels very much the same! Perhaps a little more laid back here, or I'm just mellowing out with time?
TAKEAWAY TIPS FROM JAMIE'S INSIGHTS
Remember that it's not about duplicating someone's process, but learning from it and finding your own path. Content creation is needed as part of your holistic approach to reaching and serving your wedding clients. You can learn more about what types of clients you'll be seeing with this post on Three Types of Clients Wedding Pros Will Be Seeing This Year (And How to WIn Them Over).
---
Thank you to Jamie Wolfer, JW Coordination owner, and lead planner, for sharing her insights on creating content that connects with wedding couples. Learn more about her services, and other resources by visiting her Instagram, YouTube Channel, Podcast, or JW Coordination.