Dried florals are the hottest trend in wedding flowers — and that won't be changing anytime soon. We're taking a closer look at this trend with the help of expert Lizbeth Molina — creative director and head floral artist at Rawfinery Florals near LA.
Lizbeth is a talented jewelry designer turned multidisciplinary floral artist and a self-described dried-floral addict with a talent for seeing beauty in unexpected places. The result? Some of the most stunning floral creations ever. Her creativity can be seen everywhere from high-profile events, editorial publications, specialty brands, weddings— and of course, our favorite — on Instagram.
(Be sure to check out her latest work and cute pics of her adorable canine sidekick, Ory, on Instagram. You can thank us later.)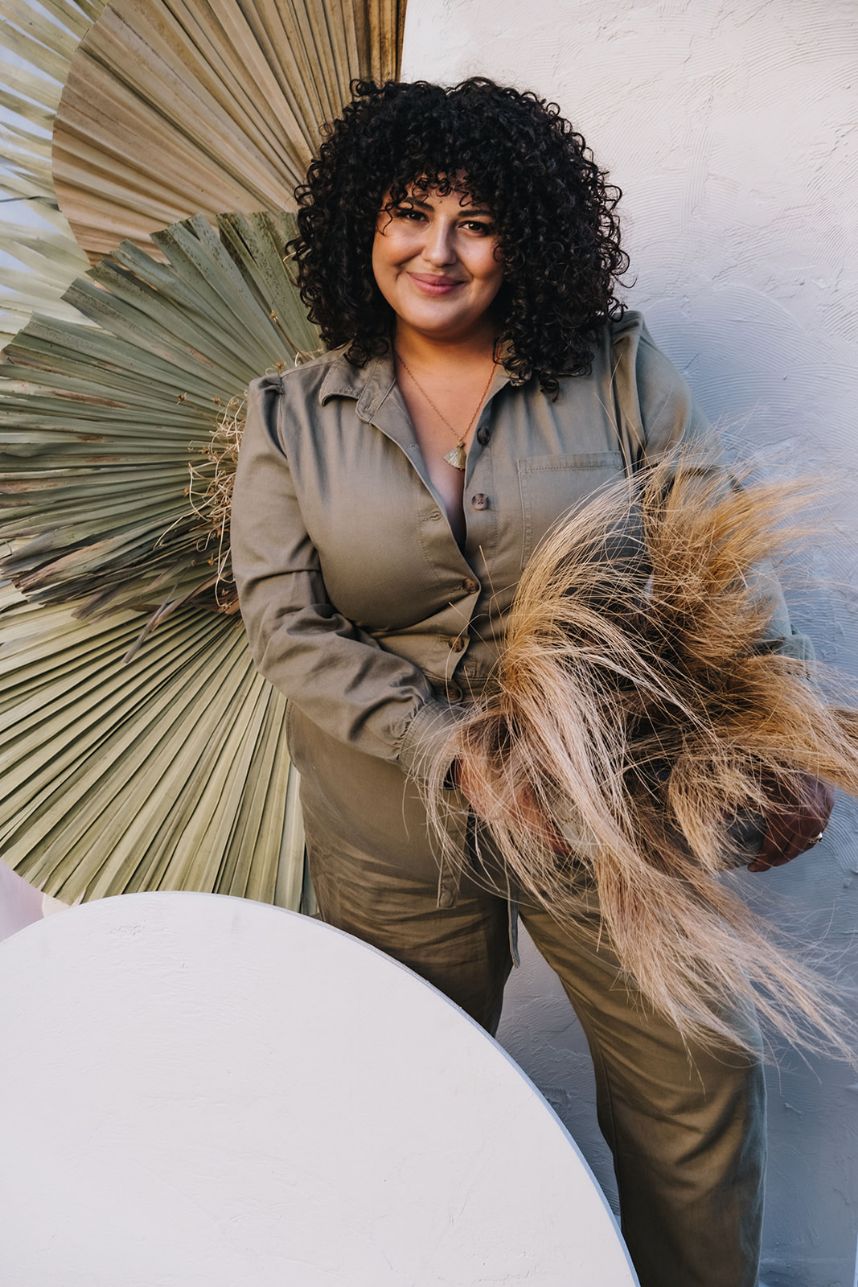 Photo of Lizbeth Molina Courtesy of Rawfinery
WHERE THE RAWFINERY INSPIRATION COMES FROM
As a designer, Lizbeth has always been drawn to raw textures found in nature combined with refined design and composition.
That's such a big part of her philosophy that it inspired her business name. She kept bouncing raw and refined around in her head and Rawfinery was born. "Finery is also another name for fine clothes and jewelry yet the more I used fresh florals in my product photoshoots I fell deeply in love with the flowers and the rest is history," says Molina.
Now she is collaborating with other artists like Balcony Studio to create handmade ceramics for her newest project — a Fall Floral Collection.
"I'm drawn to landscape design, so I often tour gardens; as well as art and fashion. I gravitate towards art to pull inspiration for color stories and fashion for shape and composition," says Molina. She is inspired by the connection she feels with the cycles and harmony in nature. Her goal is to help clients feel connected to their natural environment through these seasonal collections.
It's that passion for florals that makes her an exciting expert to talk with about the dried floral trend, so let's get started.
DRIED FLORAL TREND Q&A WITH LIZBETH MOLINA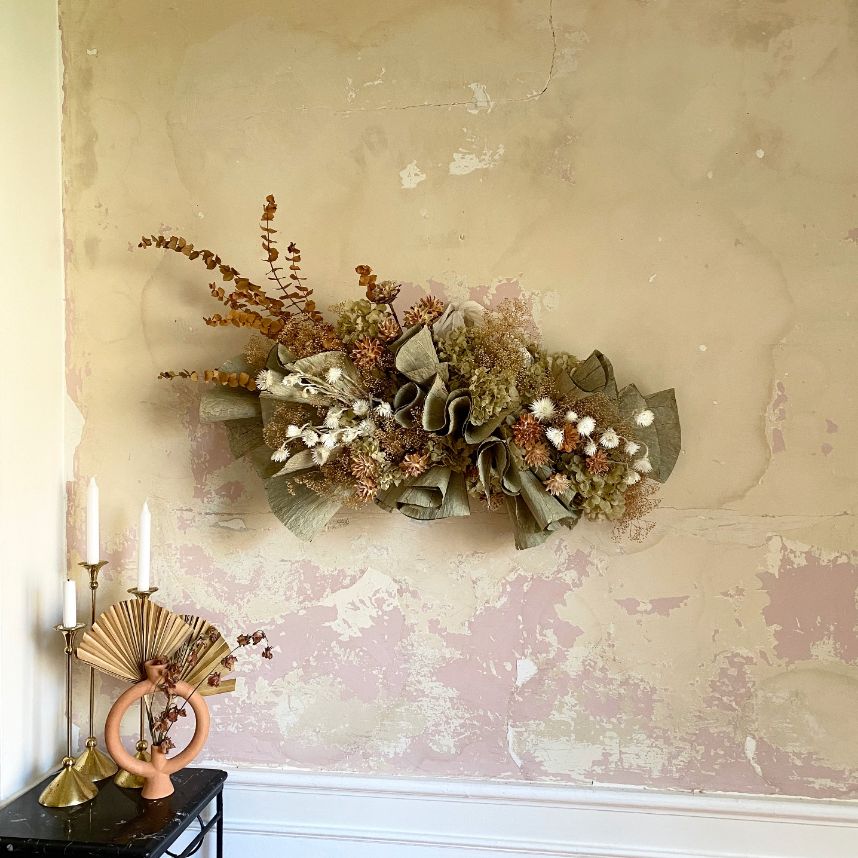 Photo Courtesy of Rawfinery
You are a self-professed dried-flower addict. What made you fall for this floral medium?
Early on in my career in florals, I was always amazed and heartbroken at the amount of floral waste post-event. So after each wedding or special event I'd hoard a pile of flowers that my heart could not bear to part with, they'd linger around the house till they'd start to dry. Quickly the textures and tonality of the dried florals won over my affection.
What are your favorite dried florals to work with?
Eeekkk so many to choose from, it's almost like the 'what is your favorite child' question. Yet, I would say I love, love, love dried allium (specifically Allium Forelock and Allium Schubertii) they dry like little fireworks, slightly golden with hints of lavender. As well as strawflower, all the ornamental grasses like pampas or miscanthus, and last but certainly not least dried PeeGee hydrangea.
What is the most unusual dried floral material (or materials) you've worked with?
I think dried corn husk is such a beautiful floral material — especially if sun-bleached — as well as wild artichoke thistle.
Photo Courtesy of Rawfinery
Do you dry them yourself or do you source them from a supplier?
Both. I love to dry as much myself as possible because I'm able to condition the flower and dry it to my liking. I also purchase preserved and dried floral from a local LA supplier.
What, do you feel, is the most common misconception about dried flowers?
That they're inexpensive. Dried florals can cost almost 2-3x the cost of a fresh flowers because of the extensive process it takes to dry and preserve dried floral.
Photo by Elizabeth Wells Photography
What makes dried florals appealing from a customer perspective?
Customers love the longevity and low-maintenance of dried florals. They're such a good floral investment as they last almost forever, as long as you care for them.
Most people think of pampas grass and eucalyptus when they hear dried flowers. Can you talk about the types of florals you work with?
They're so many more florals that dry so beautifully that rarely get seen. I've really been into drying and preserving delicate florals like agapanthus blooms, hellebore, alliums. Currently, dried palms are very popular, yet I love the way monstera leaves dry as well as lotus leaves.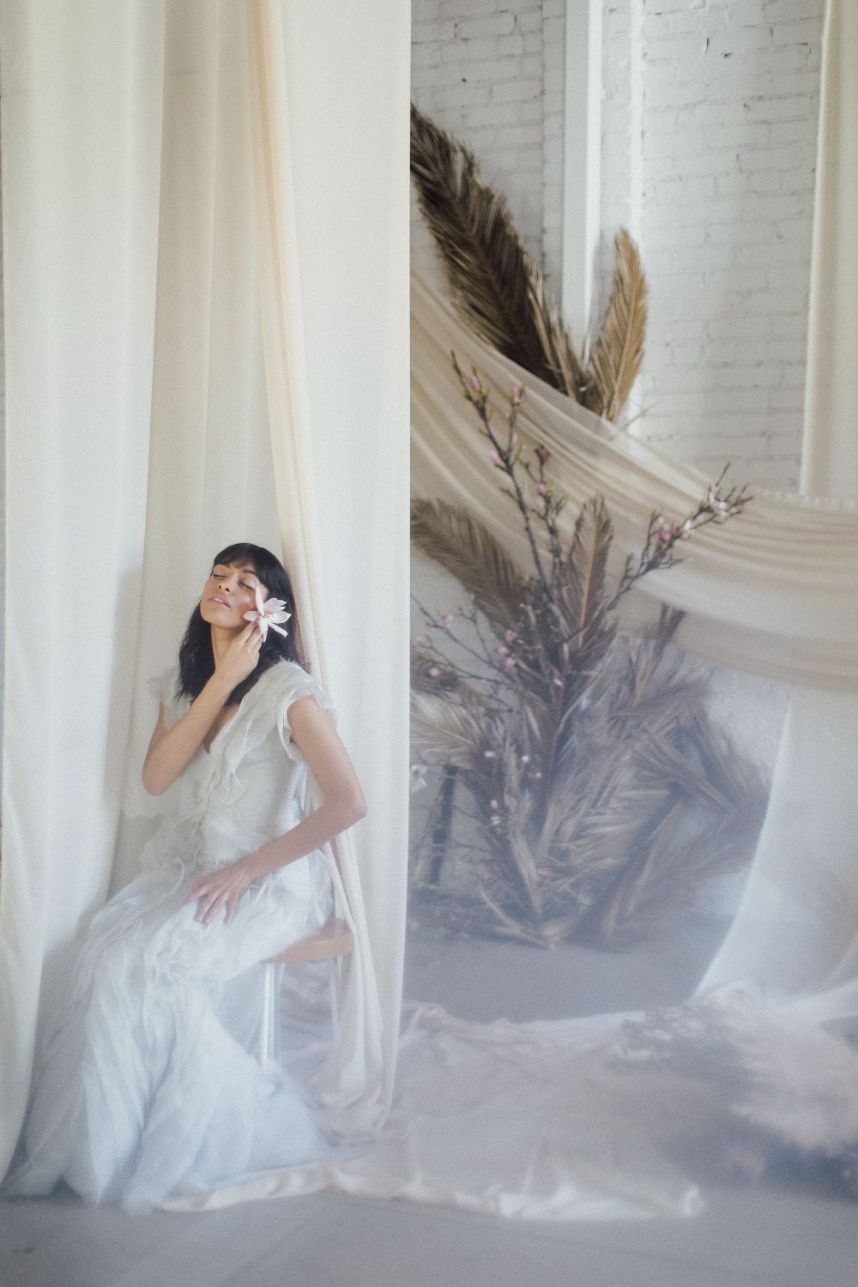 Photo by Jen Sosa Photography
When it comes to weddings, how are couples incorporating dried flowers?
Couples love the textural element dried florals provide, they really ground the arrangements/installations, making them feel grown in and naturally landscaped. I'm now seeing a range of couples leaning towards dried florals for this reason. As well as their sustainable quality, more and more couples are environmentally conscious and inquire about the floral wasted post-event. Knowing that not all the florals will end up in the trash is important to them.
How do you approach creating florals for a couple's wedding?
The design process is one of my favorite aspects of my job. As a true romantic, I like to get deep into the love story of my couples. I love to hear about where the couple met, the landscapes that stand out in their memory, or where they wish to travel.
I also like to see what their home decor is like and what they're wearing on their wedding day, these are huge tells on the core style of the couple. All of these details feed the design, it's all about building the atmosphere through florals.
You've recently launched your Fall Collection — can you share more about that?
Yes! I'm so excited about the Fall Collection, it is an arrangement of fresh and dried florals. I've curated the fresh florals specifically to dry well so that the owner of the arrangement can join in on the lifecycle of flowers by drying some of the flowers themselves.
Each arrangement comes with a custom note card that has a QR code on the back that directly links to an online dried floral tutorial video conducted by yours truly. I come from a fashion industry background and like fashion, I love a good collector's piece. I consider this arrangement an investment piece rooted in sustainability as I wanted to provide seasonal floral collections that will last for the entire season and then some!
(See the behind-the-scenes inspiration for the Fall 2020 collection.)
What wedding floral trends do you see (dried or otherwise) coming down the line in the next few years?
I'm seeing many couples ditching large table arrangements to allow room in their budget for large floral installations that serve as a photo op. I feel like dried florals are going to continue to surge in years to come.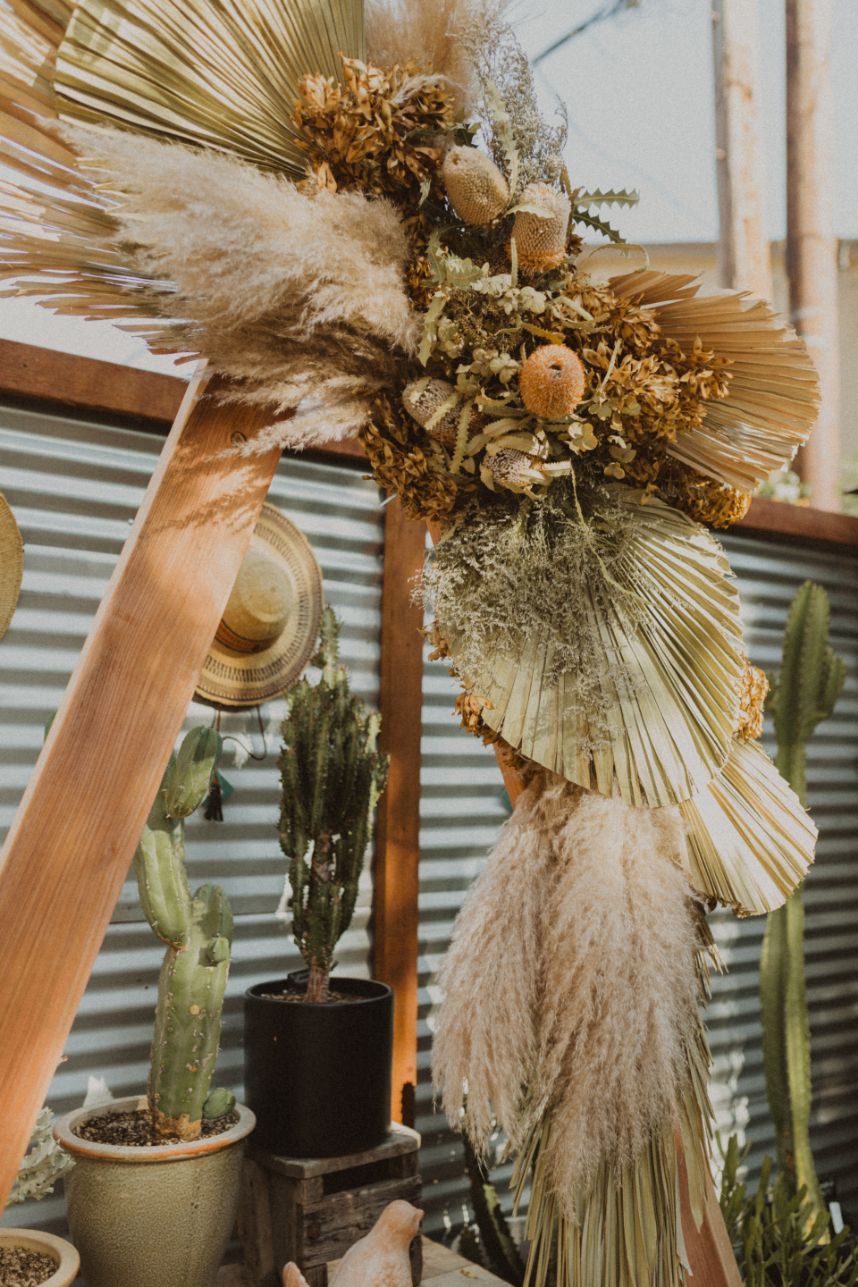 Photo Courtesy of Rawfinery
SHARING THE LOVE OF DRIED FLORALS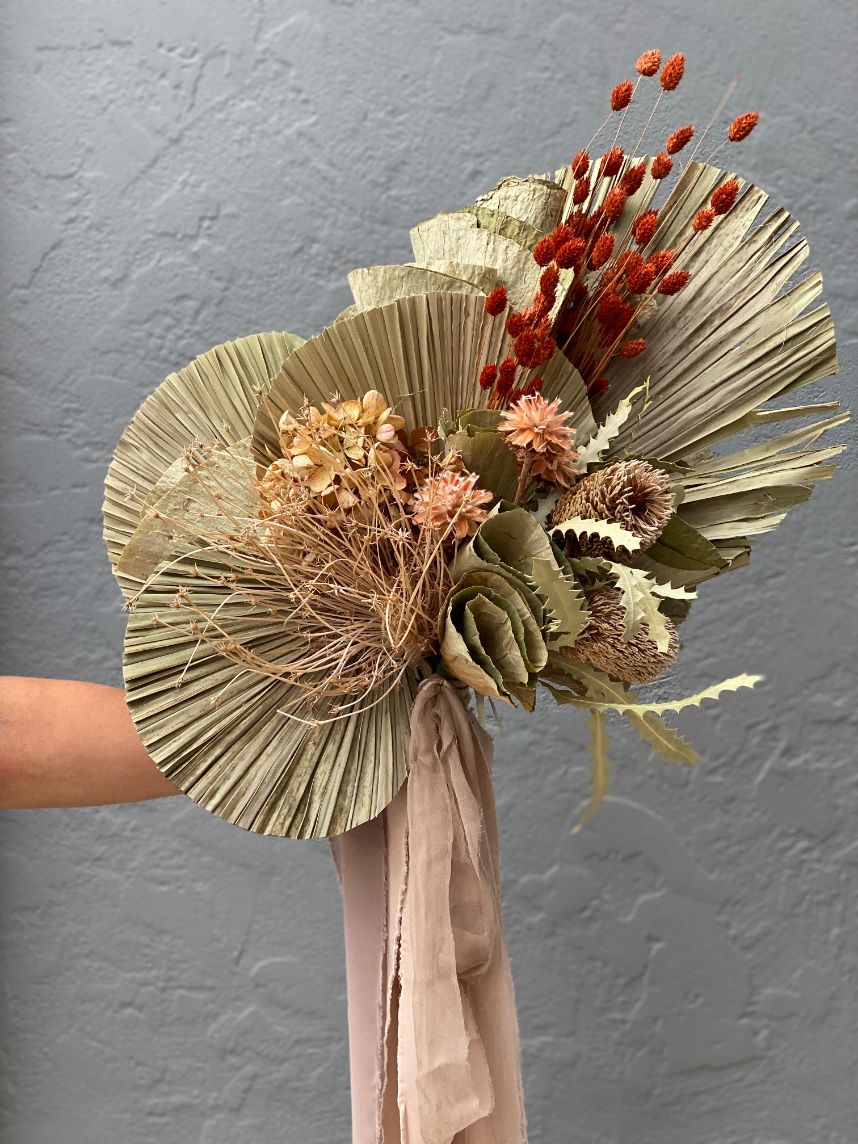 Photo Courtesy of Rawfinery
As an artist, Lizbeth shares her love of dried florals with other designers. We asked how she got started teaching workshops —
"I sell a separate collab collection at a fashion boutique called Prism here in Long Beach and on one of my deliveries Dayna, the owner of Prism, asked if I'd want to teach a class. At first, I hesitated, yet the more I thought about, I thought of how much a love dried florals and teaching (my mother is a teacher so it must be in the genes), it clicked!
My students are most surprised to learn how much effort goes into a floral arrangement, yet they find how therapeutic and relaxing floral design can be.
I like to really set them up for success so I do teach them how to compose their florals using the design rule of thirds and use of color theory when choosing a floral color palette. My favorite part of each workshop is standing back and watching everyone dive into designing florals with so much joy."
---
Thank you to Lizbeth Molina of the Rawfinery for sharing her insights on the dried floral trends with us.
__
Written by Corrie McGee
Photo Courtesy of Rawfinery