Scaling down the size of a wedding doesn't have to mean scaling back on the celebration. Whether it's a micro wedding, minimony, or elopement — wedding vendors are helping couples reimagine their wedding. This means that the whole affair can be reimagined for celebrating big on a smaller scale!
THE WEDDING SIZE — AND THE REASON FOR THE SIZE — MATTERS
Couples are opting for smaller weddings these days, most often because of COVID-19 restrictions and safety concerns. The most popular types of weddings are micro weddings, minimonies, and elopements.
Typically they range in size from up to 40 guests at a micro wedding to 10 at a minimony, or a private elopement. But just because these couples have opted for a smaller wedding doesn't mean they aren't ready to go big on the celebration details.
While weddings have been trending smaller over the last decade, the average wedding budget has increased.
Wedding vendors are helping couples go big on the small details — and think more purposefully about the entire celebration from start to finish. Whether it's using heirloom china to serve dinner at their backyard minimony or giving guests an experiential favor at their micro wedding, we're loving all the personal details and focus on enjoying time with the wedding guests.
HOW WEDDING VENDORS ARE HELPING COUPLES REIMAGINE THEIR WEDDING
Smaller in size means the wedding budget is being reallocated to different areas. With that in mind, here are just a few of the ways wedding vendors are helping couples reimagine their wedding day and going bigger on the smaller details —
Turn It Into a Wedding Weekend
Wedding vendors are helping couples reimagine their wedding by making a whole weekend of it.
The chief benefit of a smaller wedding is that couples can take time to connect with their entire group of guests and make the whole weekend feel like a fun-filled family reunion that culminates in a romantic wedding.
Gilbertsville Farmhouse is a private resort-style farm venue in the Catskills in upstate New York. They specialize in creating that epic kind of celebration that modern couples are looking for — something they and their guests will cherish and remember forever! Part of their micro wedding packages includes lodging in luxury glamping tents for the couple and up to 40 guests. Couples will have a fabulous three-day weekend celebration that includes everything from relaxation, paddle-boating, goat petting, and making s' mores just to name a few things.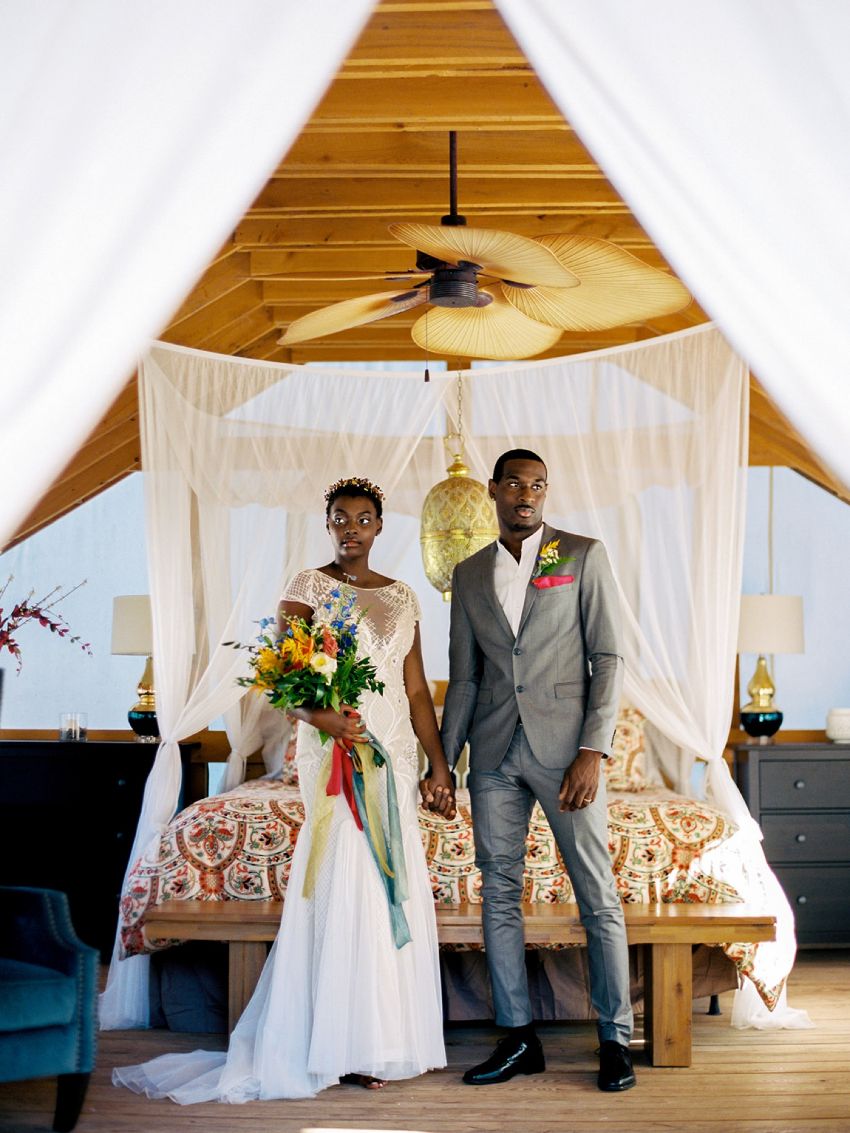 Photo by Jessica Manns Photography
Customized — and Intricate Wedding Invitations
Wedding invitations are where many couples are stepping it up as they cut back the guest list. With fewer invitees, they are able to splurge on custom illustrations, custom crests, or hand-painted invitations that are filled with meaningful details and can serve as a beautiful memento of the day. This includes calligraphy addressing and beautifully curated vintage stamps that match the motif and/or color palette like this set from Tenn Hens Design.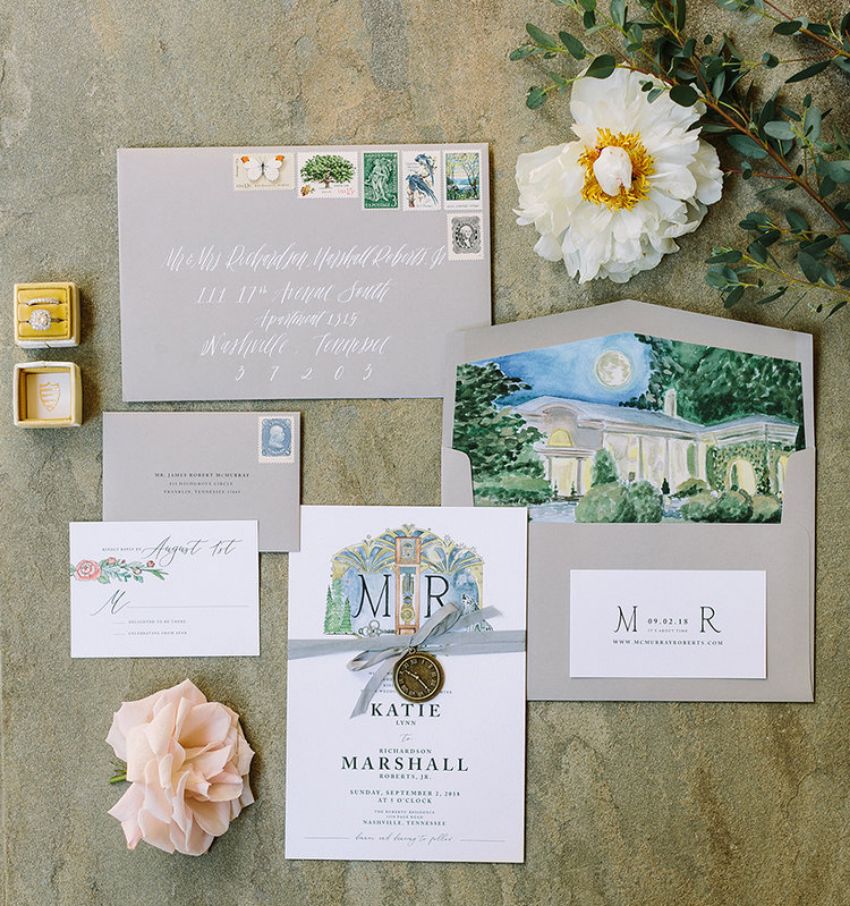 Photo Courtesy of Tenn Hens Design
More Elaborate Events with the Wedding Party
Celebrating with the bride tribe or the wedding party ahead of the festivities has always been part of traditional weddings, but when it comes to micro weddings and minimonies, wedding pros are helping their couples really take time to enjoy the moment in beautiful and relaxing surroundings.
It's no longer about a rush to the finish. Couples are wanting to spend time with the handful of people — and that could mean anything from a spa day to a stunningly styled backyard brunch. More than ever, wedding design includes pre-wedding events like these as well as the big day itself. (See more about this real Texas bride here.)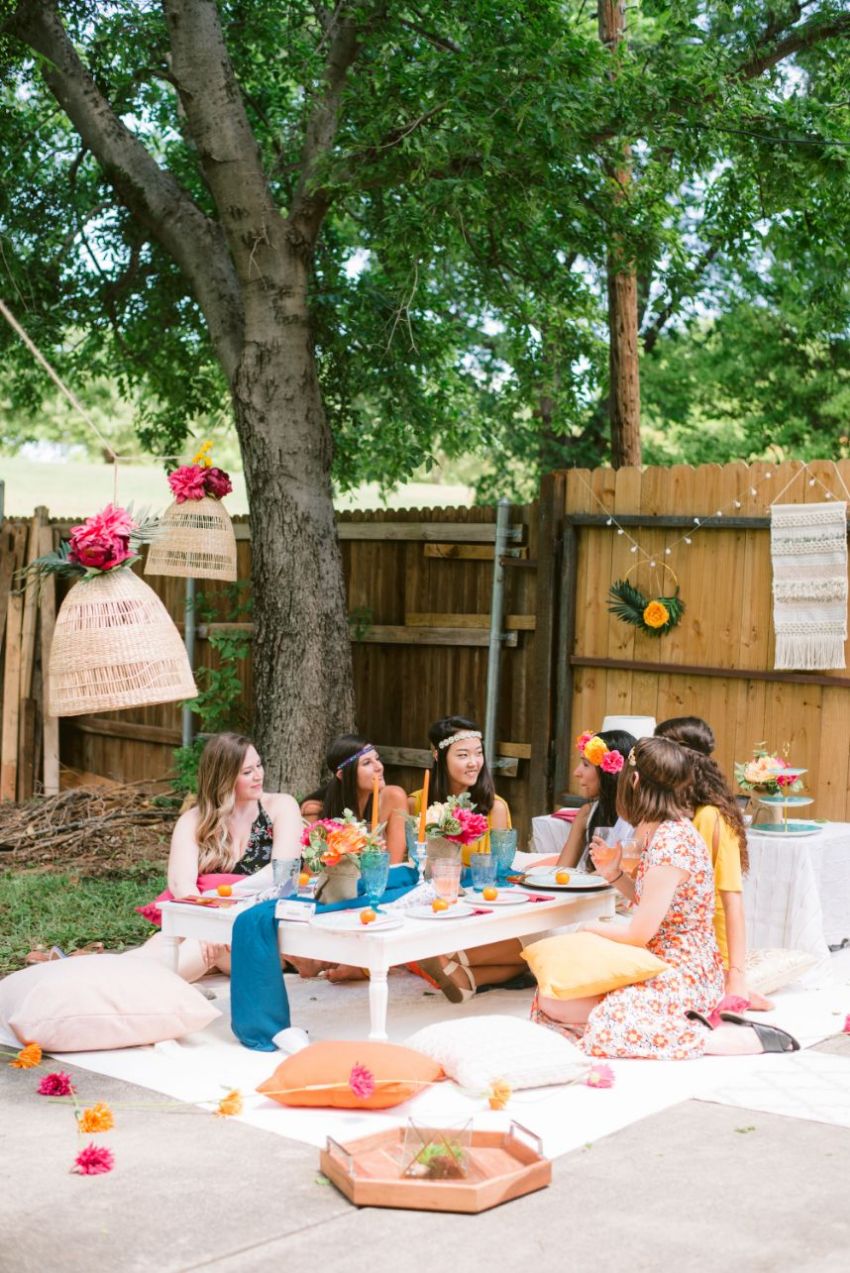 Photo by Stephanie Michelle Photography
Interactive Catering Stations
As weddings become more about meaningful interactions with a smaller group of people, food has become an even more important part of the event. Much like a family dinner, couples want to treat their guests to a truly unique and delightful dining experience.
Caterers are coming up with more and more creative ways to help couples achieve this. Think self-serve oyster bars, gourmet popcorn tables and grazing charcuterie boxes to name a few. One way couples are treating their guests to something extra special is with mobile drink stations like this one from Bubbles and Brews in OKC complete with customized craft beer and cocktails.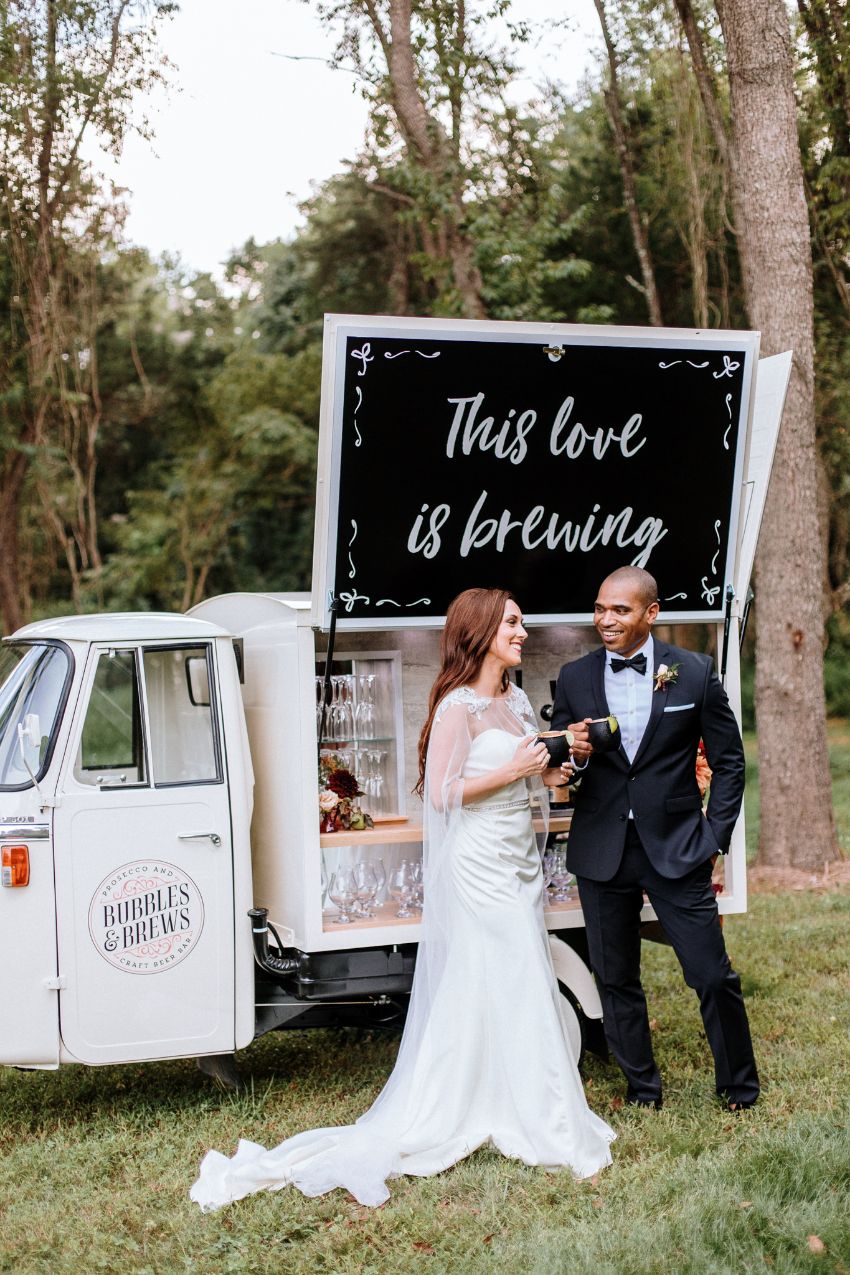 Photo courtesy of Bubbles and Brews
Unique Seating and Intimate Settings
Seating is another area where wedding pros are helping couples reimagine their wedding day. With fewer seats to fill, more and more couples are opting for unique seating selection such as velvet-covered vintage chairs and settees. This creates a beautiful picture and helps your guests to witness the wedding in style — as well as comfort. Upholstered chairs like these from The French Eclectic Event Rentals lined with bountiful blooms give a wonderfully homey feel, while still being unforgettable.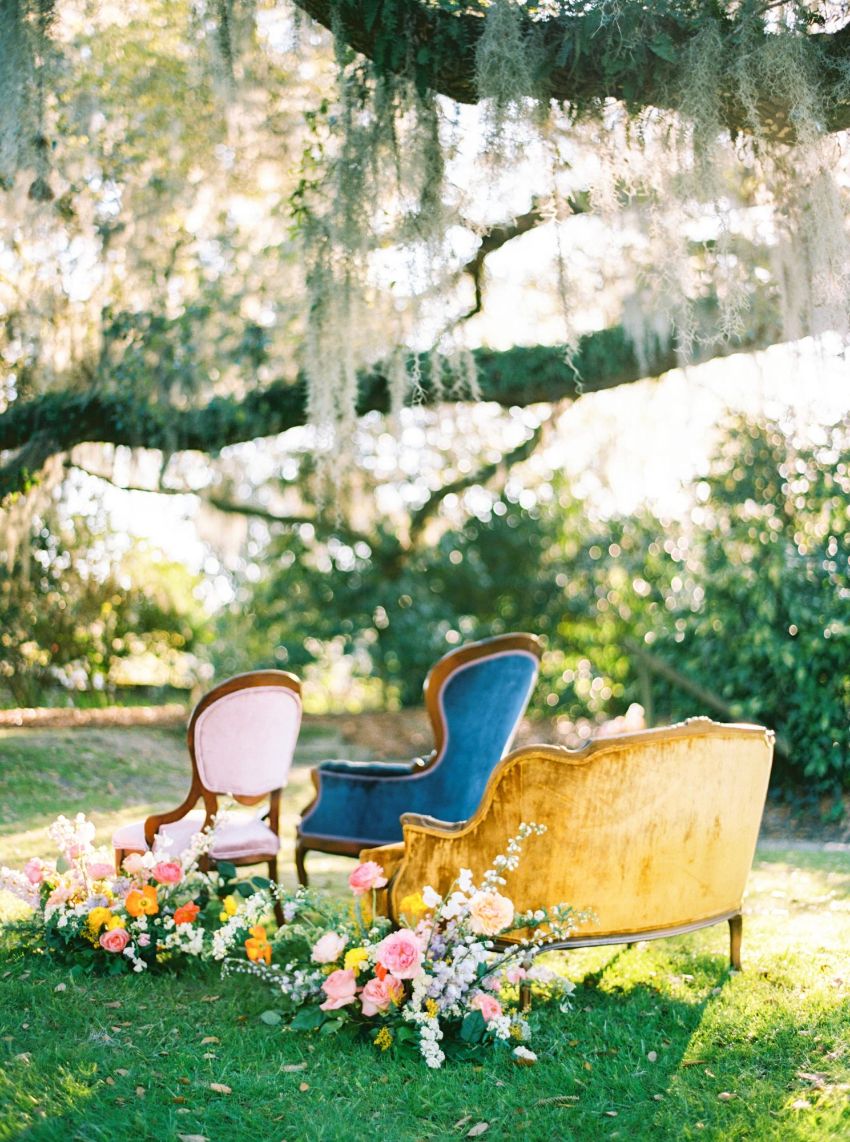 Photo by Perry Vaile
More Guest Experiences
According to industry reports, guest experiences have become an increasingly large part of the wedding budget. In many cases, these are used in place of traditional favors. Big yard games, dance instructors, wine tastings, and couple's trivia games are just some of the popular ideas couples are using to make sure their guests have a memorable experience.
One of the most unique trends when it comes to guest experience is a live illustration. Wedding pros like Amy Lee of Amy Lee Illustrations create live sketches of guests during the reception. This is one wedding favor guests will keep for a long time.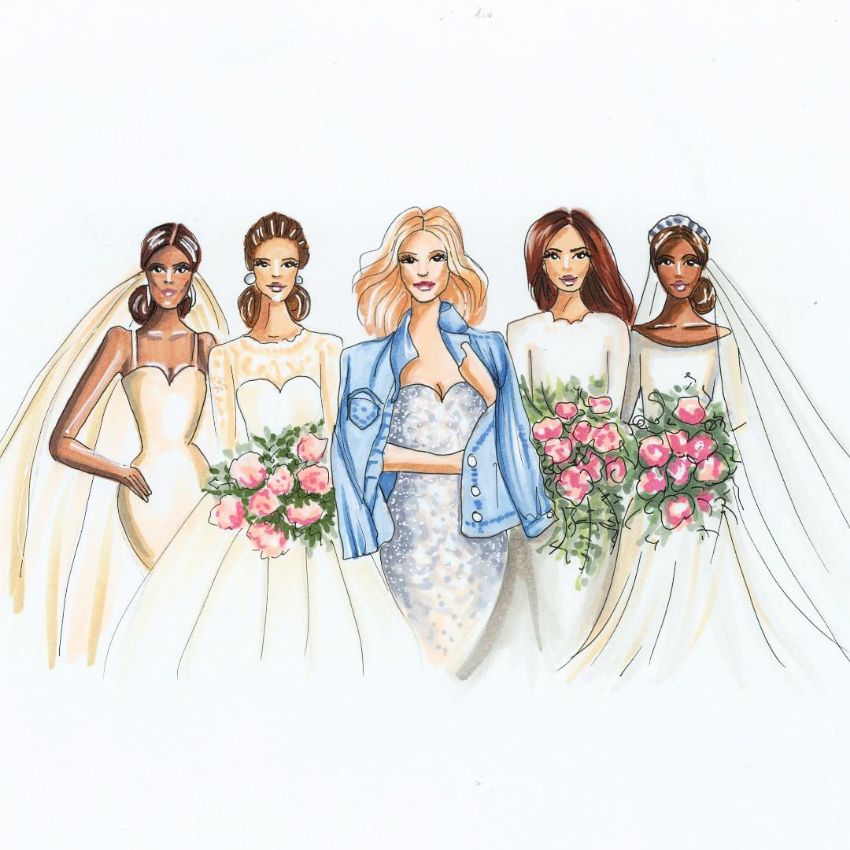 Image Courtesy of Amy Lee Illustrations
Going Bigger on the Small Details
Where larger weddings often need a broader scope, smaller weddings mean couples can go deeper into the details. Micro weddings, minimonies, and elopements are a great opportunity to focus on lovely details as well as heirloom elements throughout the day.
Some couples are serving their reception dinner on heirloom china or even purchasing their wedding china set early to use at their wedding. Wedding pros are helping couples look for ways beyond the something borrowed and blue to incorporate their family history and meaningful details. This wedding at Camp Lucy featured framed wedding photos of the couple's relatives on the cake table.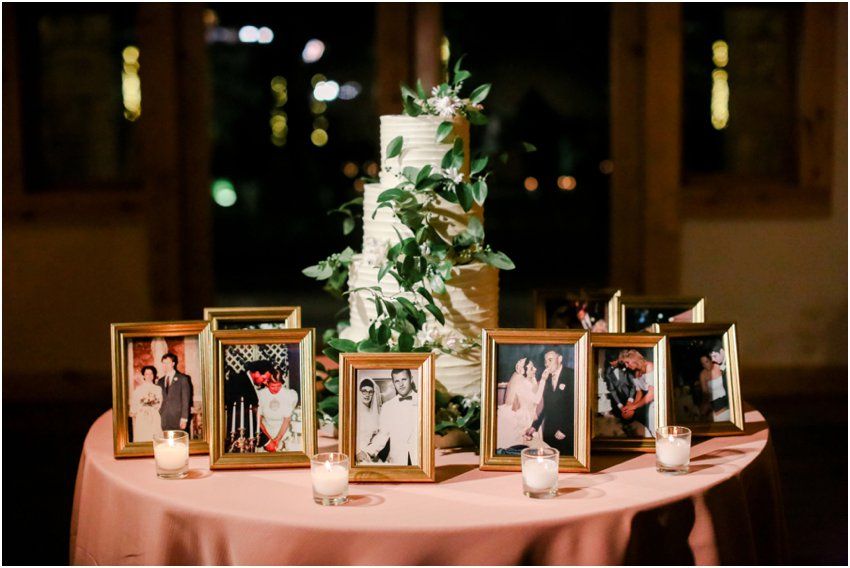 Photo by Krystle Akin Photography
This is meant to create an intentional moment and opportunity to slow down, to consider everything that has brought the couple together. Sharing the family history and especially their many love stories can be a wonderful touch. This even extends into the flowers a florist might put into a bridal bouquet — such as blooms that their parents or grandparents had.
Other small details include everything from luxe table settings and purposefully scent-filled over-the-top florals that create a feast for the senses. Couples don't only have to think of filling a space, but a smaller space to fill means editing and choosing things that will make the most impact.
Gifts for the Guests — Before and After the Wedding
Gifts for guests have grown in popularity, especially with COVID couples who have guests watching from a distance, but is also a growing favorite of couples having smaller weddings.
Carefully curated gifts can also be the new wedding favor for smaller affairs. These gifts often feature the couple's favorite things or the best of local goodies, but they can also simply be self-care or pampering treats.
This can be something that guests get when they arrive for the wedding weekend or celebration. It can also be something that guests get as a favor when they are leaving — a kind of way to keep the celebration going after they are gone like this spa-style gift from Teak and Twine. They specialize in gift boxes that people keep and these delicately-scented care items will remind guests of the sweet celebration long after the wedding.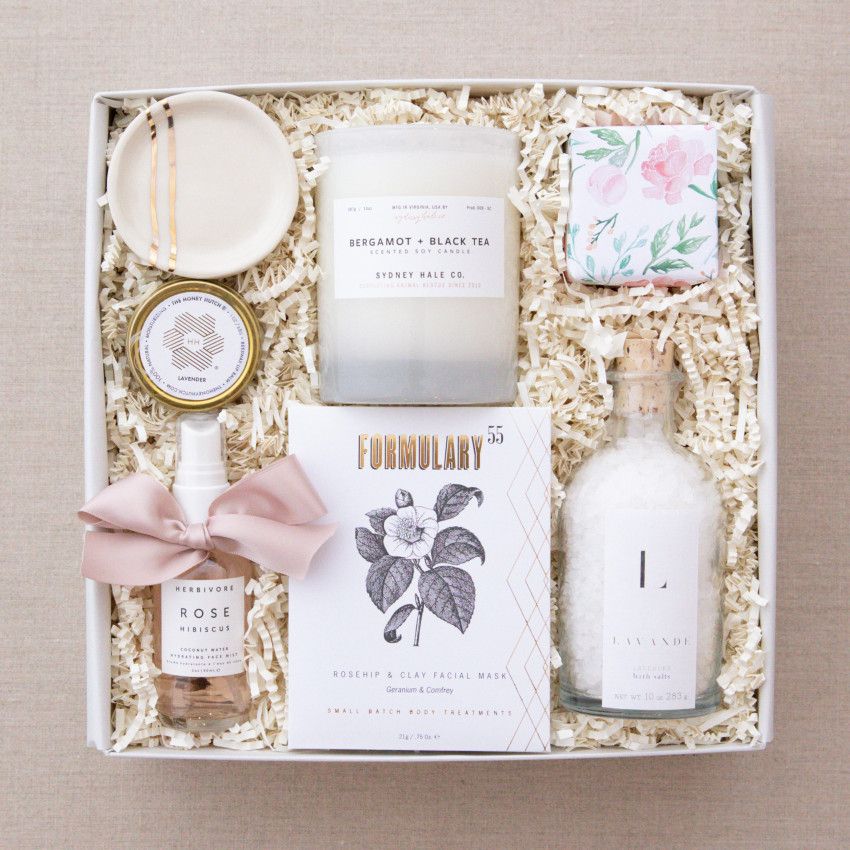 Photo Courtesy of Teak and Twine
WEDDING VENDORS ARE HELPING TO BUILD NEW TRADITIONS
These are just a few of the ways wedding vendors are helping couples reimagine their wedding. It's clear to see that scaling back doesn't need to mean scaling down. We're excited to see all the inventive and meaningful touches that become part of new traditions with this trend towards smaller weddings.
For more details on wedding trends, be sure to check out Three Ways Wedding Venues Are Getting Creative During COVID.
__
Written by Corrie McGee
Photo courtesy of Bubbles and Brews