Couples are ready to make a BIG statement when it comes to wedding decor. That's one of the hottest wedding trends for 2021. Whether it's a single statement piece or a handful of over-the-top touches, expect couples to be ready for a little more fun — in a big way — which is why we're highlighting the six places you'll see statement wedding decor going BIG in 2021.
COUPLES ARE READY TO CELEBRATE IN STYLE
Like everyone, COVID through couples for a loop. That means some postponed their celebrations while many others opted for small ceremonies to be followed by larger parties when gathering restrictions are lifted. A good portion of those Second Weddings (as they are being dubbed) are being held of the couple's first anniversary. That's a long time to wait, so you can expect the celebrations to be a big to-do with highly-styled selections whether the event is large or small. This is because couples have more time to plan, more time to dream — and they are ready to make a big deal about it.
Statement decor is all about setting the stage and creating an immersive experience. That's also something you're likely going to be seeing more of — if you haven't already.
From decadent balloon installations to show-stopping event lighting, we are excited to see all the amazing designs 2021 will bring to the wedding industry.
Let's look at a few examples of what you can expect to see — and where you can put your own unique stamp on it for your couples!
8 PLACES YOU'LL SEE STATEMENT WEDDING DECOR GO BIG IN 2021
1. Oversized Balloon Installations
Balloons have moved from kid-friendly to couture event styling over the last few years and that is only getting hotter in 2021.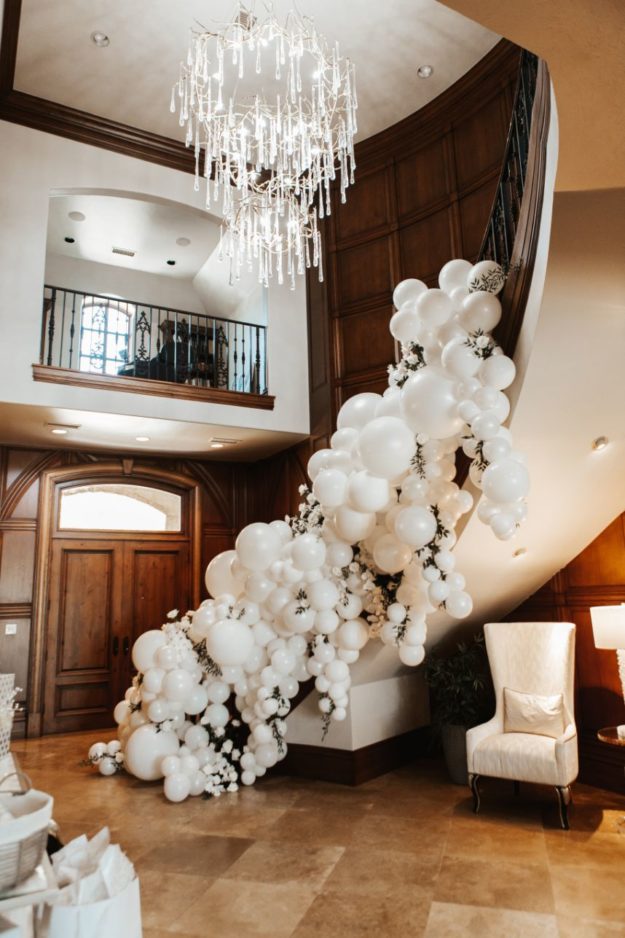 Photo by Loganna Photography |Opulent Couture Balloons
Lavish balloon installations from sumptuous monochromatic designs to colorful garlands infused with florals and texture are a sure-fire way to completely revitalize a space.
2. Immersive Lighting
Couples have had their initials in custom lights or added uplighting for the reception, but expect to see more immersive lighting experiences in the coming year.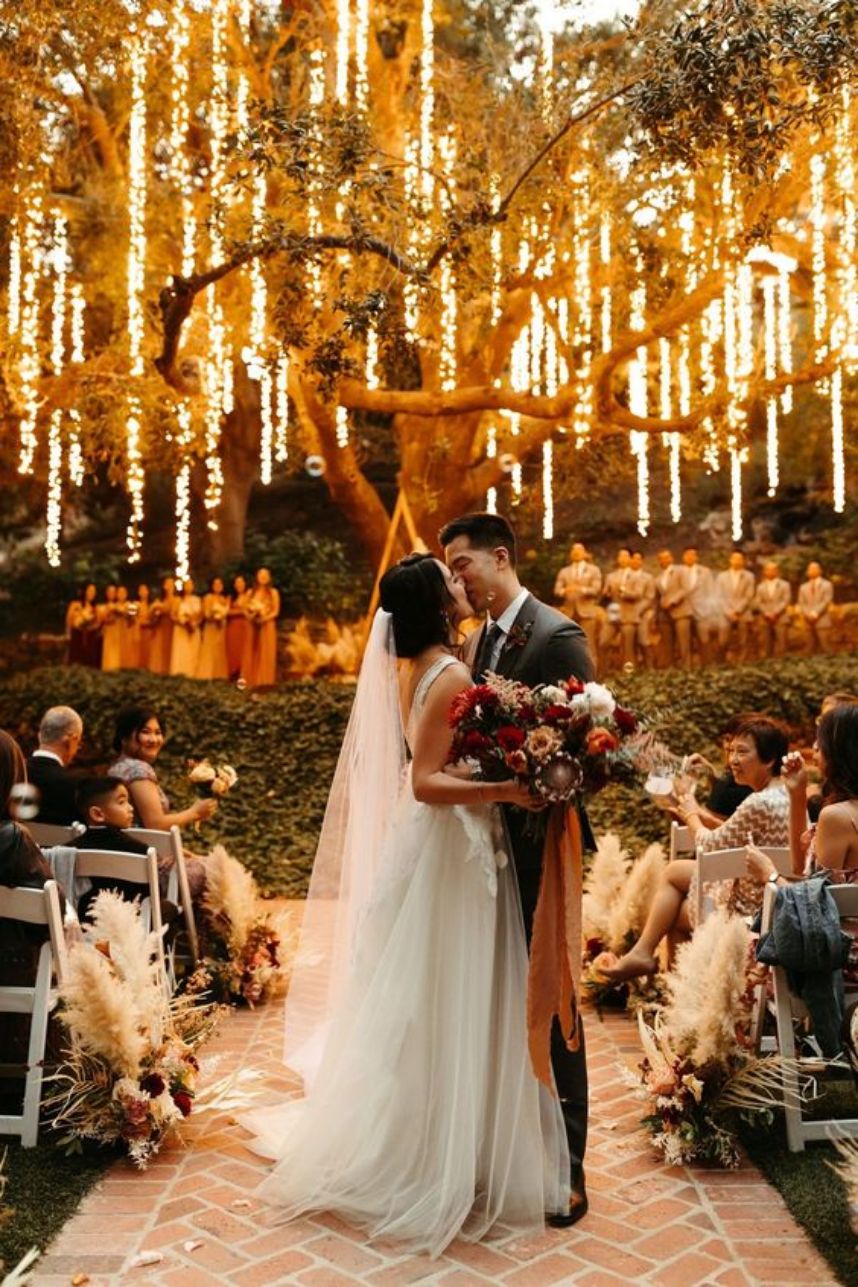 Photo Courtesy of Weddingomania
Whether it's a small ceremony or a large celebration, people want to transport their guests. Lighting is one of the most effective ways to set the collective mood. From jaw-dropping chandeliers to exquisite outdoor displays, you're likely to be seeing lighting in places you've never seen it before!
3. Large-Scale Backdrop Walls
Floral, textured, architectural — the list of backdrop styles can go on forever. Maybe because it's so versatile and maybe because it's such as classic, but statement backdrop walls with customized signage are hotter than ever and only getting better.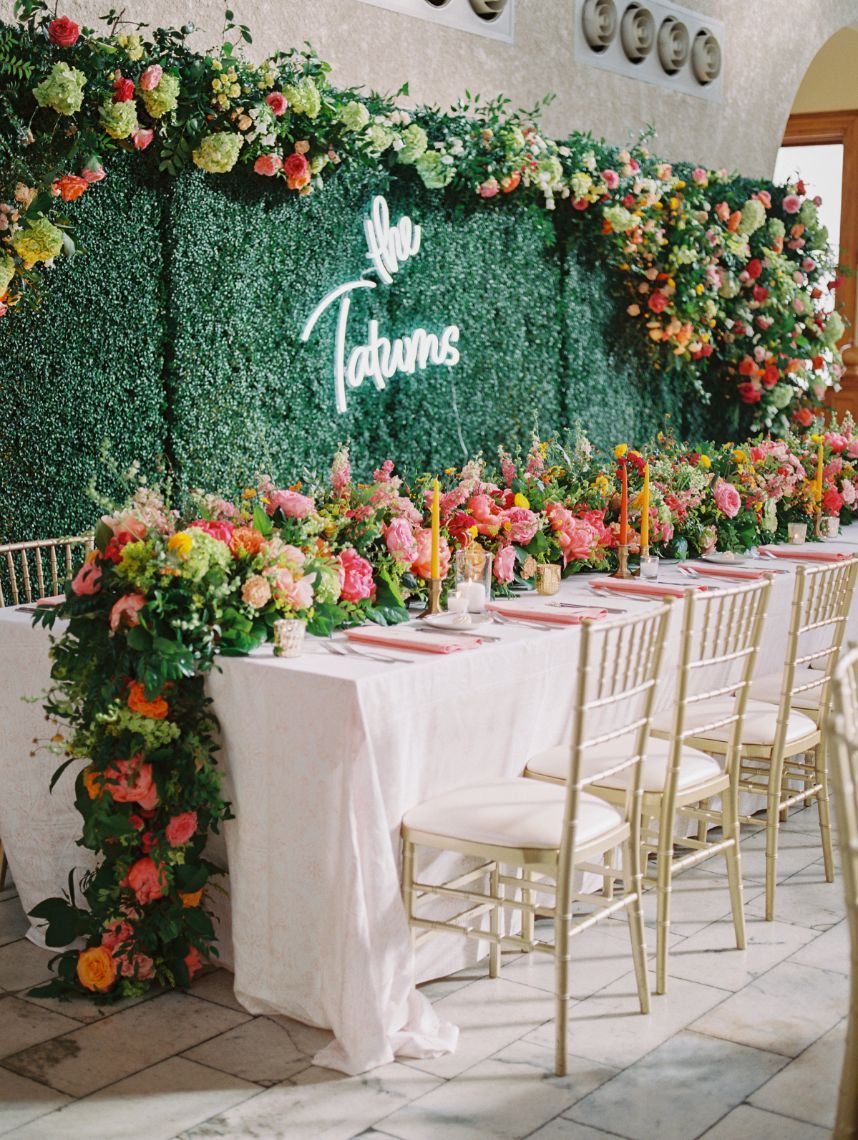 Photo by Kate Pease Photography
Backdrop walls give a wedding the feel of a red-carpet event and are a photo-op favorite with guests.
4. Opulent Chairs at the Sweetheart Table
Happy couples are ready to celebrate in style. They are opting to complete their grand entrance to the reception with grand-style chairs like these vintage-inspired rattan chairs.
Photo by Brittany Lo Photography
Not only is this trend fit for boho royalty — it makes for an amazing photo opportunity for the newlyweds!
5. Couple-Framing Altars
With couples increasingly getting married in unique-style venues, as well as at home, expect to see customized altars — the kind the perfectly encompass the couple as they say, "I do!"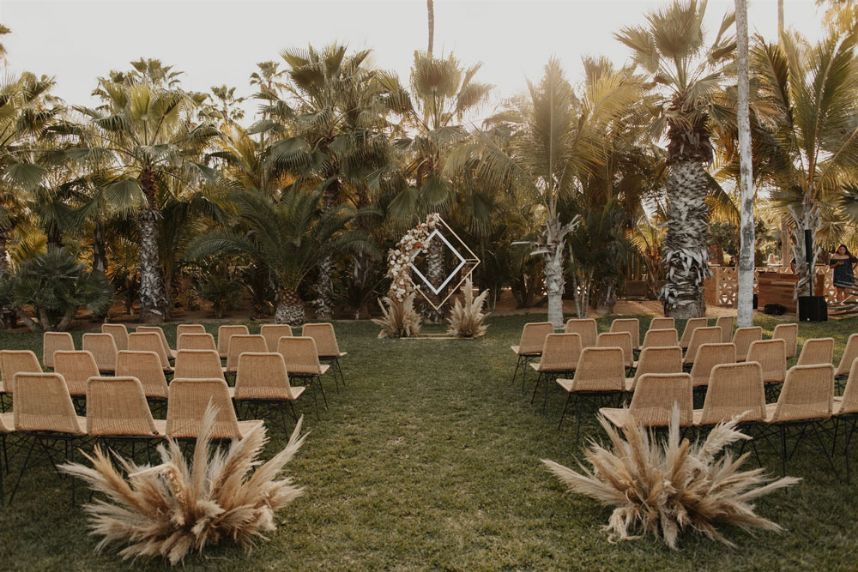 Photo Courtesy of Cabo Wedding Services
Even when the other decor is kept minimal, altars are getting more elaborate from the floral touches to the geometric shapes and more.
6. Grand Floating Florals
Speaking of immersive experiences, couples are leveling-up their wedding design with grand floral chandeliers that float above the guests enjoy the reception.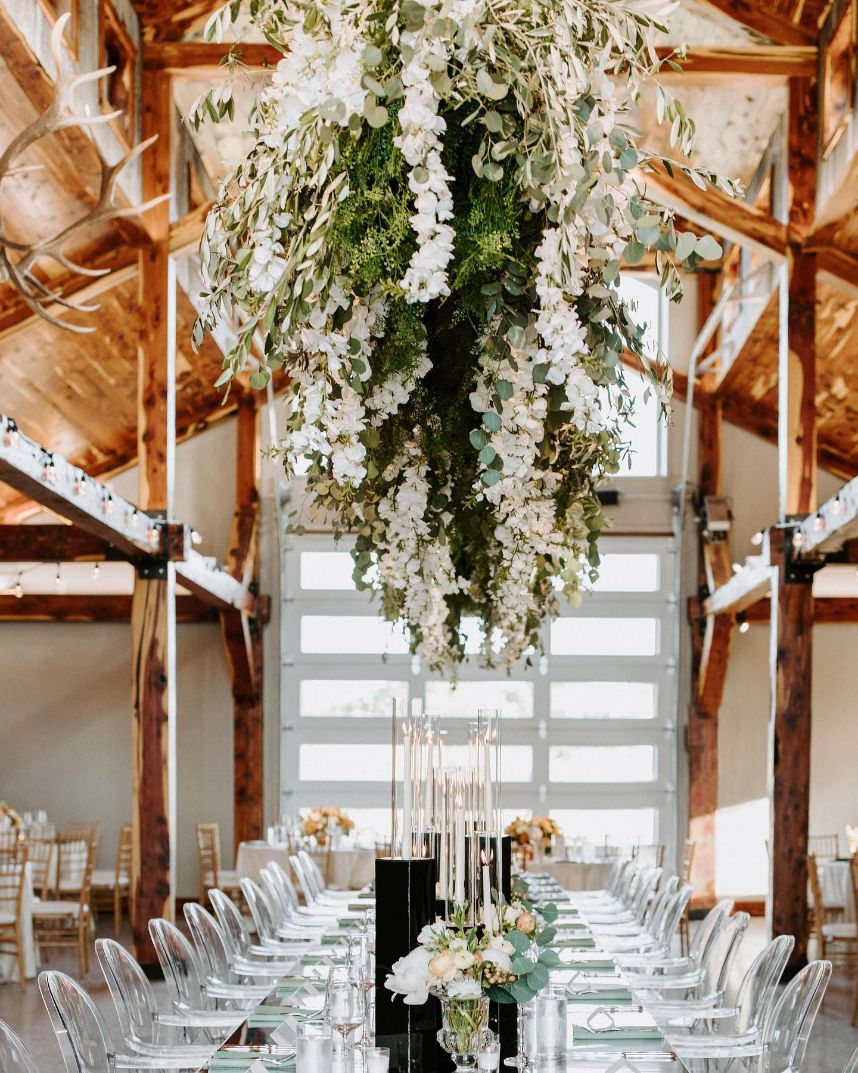 From greenery to pampas grass and bountifully draped blooms, we're loving how couples are opting to create these grand centerpieces for their event.
7. Sweeping Fabric Installations
More and more couples are choosing the striking design of large-scale, draped fabric installations. This trend works great for modern minimalists as well as those with more decadent tastes.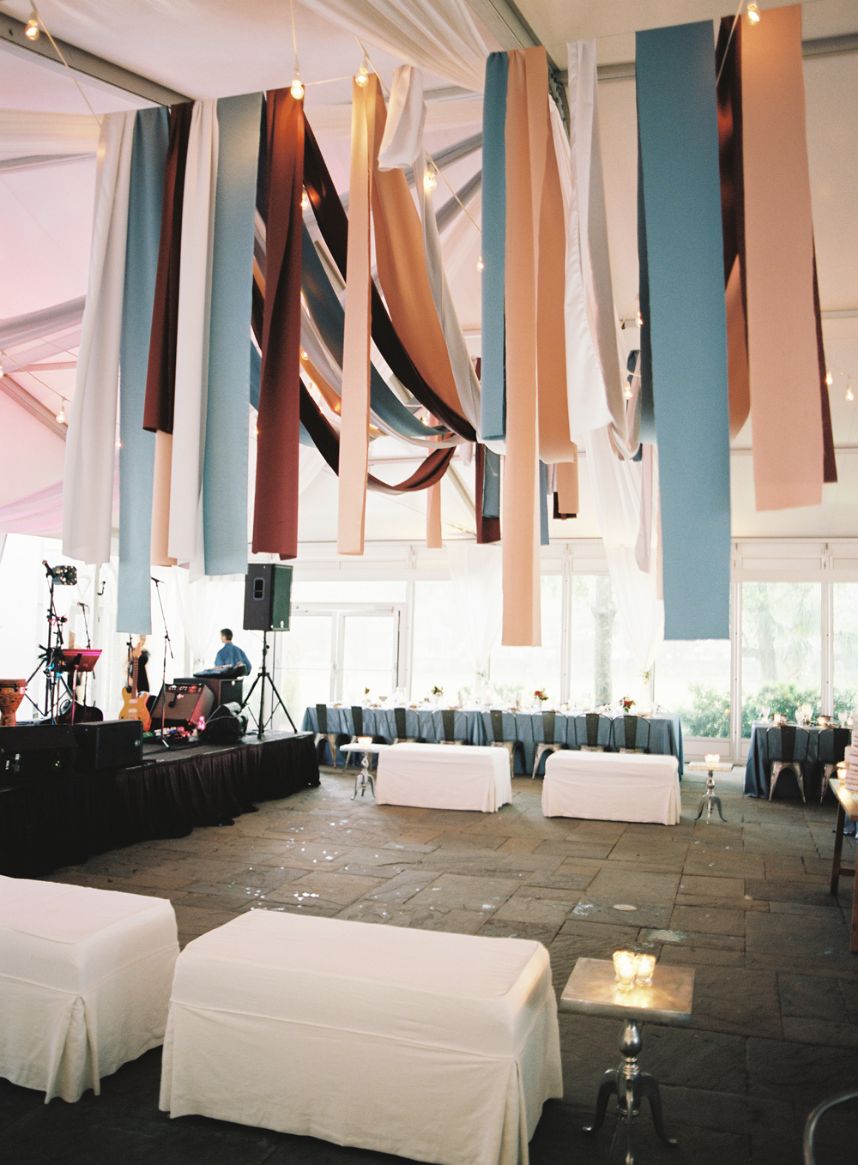 Photo Courtesy of Snippet and Ink
It's part of that desire current couples have to create an immersive experience for their guests. Sweeping fabrics can give a romantic feel or architectural drama. This decor is versatile and fun!
8. Insta-Worthy Statement Piece
Okay, these are all statement pieces. But we're talking that one item your guests will be talking about — and posting about all night long!
Photo Courtesy of Andrea Eppolito Events
This could be considered the centerpiece of the entire event. It's dreamy and it's interactive — like something from a theatre production or an art show. Something like a floral-covered tree in the middle of the reception floor.
THE IDEA BEHIND STATEMENT WEDDING DECOR
The idea behind the oversized statement decor isn't just large-scale for scale's sake. Couples want to create a thoughtfully-curated, immersive event design that transports their guests. Ultimately, this design trend is about celebrating love with an optimistic view and a zest for fun!
Don't miss out on another wedding trend for 2021 — Grandmillennial Style. Find out what it's all about right here.
__

Written by Corrie McGee