Sustainability can be defined as meeting the needs of the present without compromising the ability of future generations to meet their own needs. It's being conscious of the environmental impact of the stuff we buy, use and discard in an effort to eliminate waste. We can hardly think of a more mindful or symbolic way to start a new chapter together as a married couple than to plan a sustainable wedding (or even incorporating just a few sustainable elements).
To help toward that end and spark some Earth-friendly ideas, here's a roundup of impressive companies taking the reigns of responsibility and offering chic eco-friendly products and services.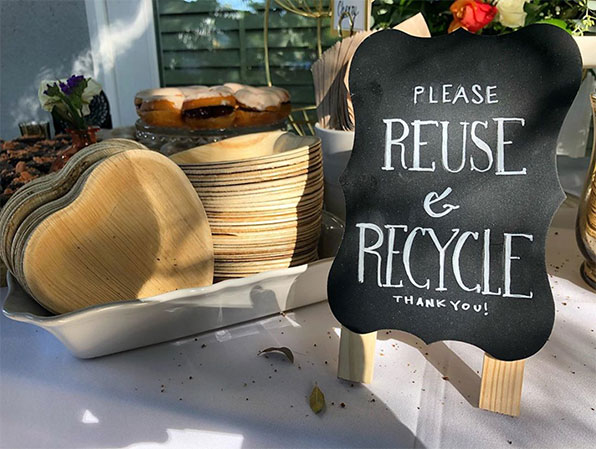 Curbside Compost for Wedding Leftovers
Say hello to Compostable, a curbside compost pick-up service located on the westside of LA. The company provides compost services for weddings in Los Angeles county. From palm leaf plates and taco bar leftovers, the company collects bins worth of materials that they convert to soil and divert from a landfill.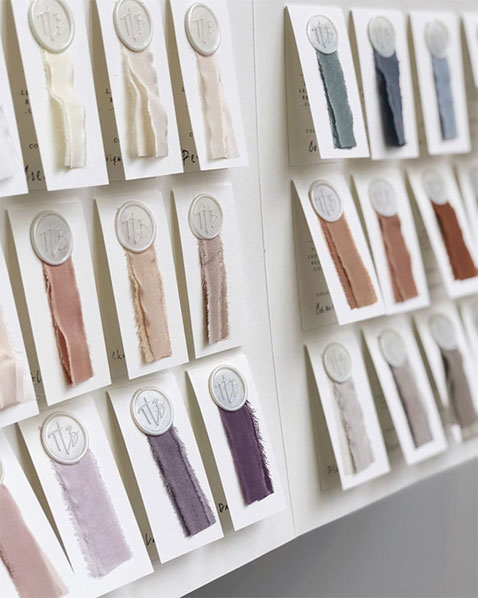 Plant-Based Dyes for Linens
Did you know that you can make hand-dyed ribbons and linens using plant-based dyes from things like cabbage, avocado and walnuts? The Lesser Bear (also out of Columbus, OH) offers plant dyed silk and velvet ribbons and is even offering face coverings during the COVID-19 crisis for $10. "I wanted to create a mask which was elegant, had a positive message, and could be worn by wedding vendors and guests alike." For each mask purchased, she is donating a fabric mask to The Navajo Nation.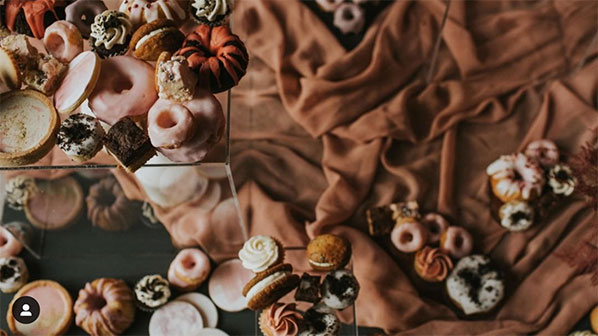 All Vegan Dessert Spreads
Avant Garde Cake Studio believes that people who think zero waste weddings are boring and bland have no imagination! A scroll through her Insta feed will dispel any such misconceptions. Two of this company's most important values in business are "ethical and sustainable" and trust us, this mastermind proves that you can have a wedding and a dessert spread that is lush, all vegan and kind to the environment.
Wedding Confetti from Leaves
Least Waste was born in 2018 and their Instagram offers all sorts of ideas on how to take big steps and baby steps to help you achieve a zero waste life. We snagged this idea from them and thought it was such a clever and simple way to create a beautiful exit with eco-friendly confetti made from leaves. Stay tuned…their full site is launching soon with plastic-free products and helpful blogs with tips and tricks for a sustainable lifestyle, plus green recipes.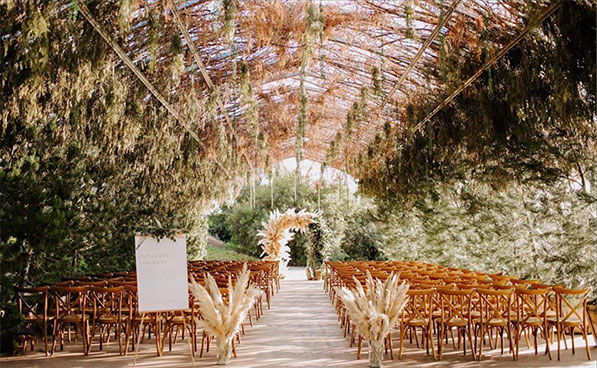 Environmentally-Friendly Venues
Finally, one of the simplest and environmentally-friendly choices couples can make is to purposefully choose an outdoor wedding venue that offers nature's beauty with minimal decor needed. Whether that's a shaded forest or garden with blooming florals or maybe a canyon backdrop with cacti elements or a beach oasis, the options are endless. Your guests will hardly notice any missing extra decor elements with a scenic and beautiful earth-friendly backdrop to gaze at! Ethereal Gardens seen here is nestled amongst 40 acres of edible gardens, surrounded by old growth orchards and 100 acres of organic herb and vegetable farms.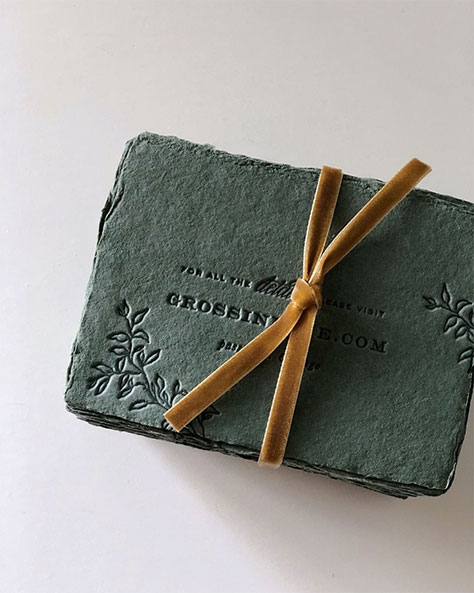 Sustainable Wedding Invitations
Stylish, sustainable paper offerings are limitless and we're obsessed with this dark green ink on dark green handmade paper from Cheer Up Press based in Columbus, OH. Each order helps with reforestation efforts through @EdenProjects. Her luxe designs are exquisite in every sense.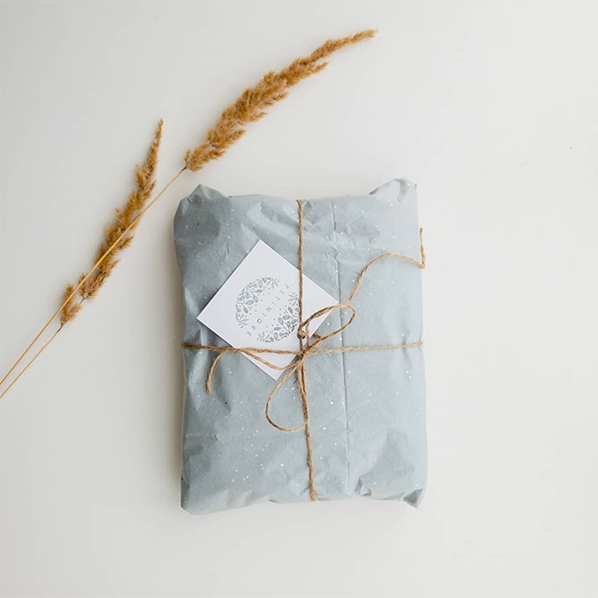 Going Green with Wedding Registry
Good Intent is a low waste retailer with shops in San Diego and Portland that is on a mission to make reducing waste easier, more inclusive and more accessible. Owners, Alex and Lindsay, remind us that "bridal showers were started as a way to provide financial assistance to new couples who couldn't afford to begin their new home on their own. Now they are commonly a way to end up with 2 food processors and 3 sets of drinkware." Guided by this perspective, their shop introduces people to a new type of intention when registering for and purchasing gifts — one focused on responsible consumerism.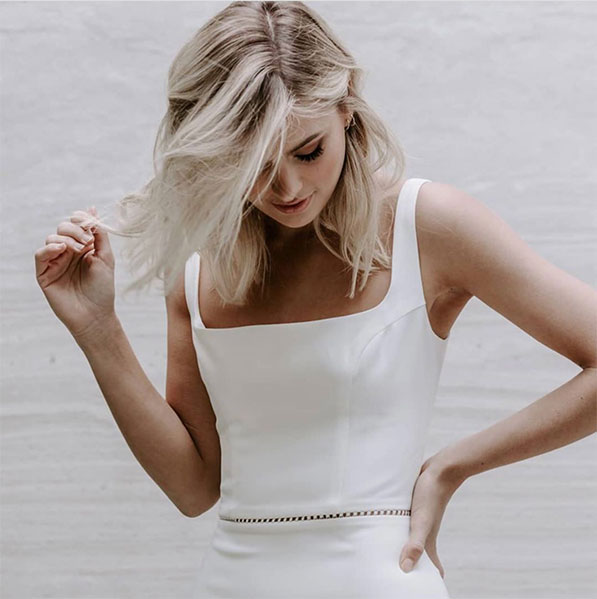 Sustainable Wedding Gowns
Scout Bridal offers fresh, sustainable and uncomplicated bridal designs based out of NYC and is available in 30+ boutiques worldwide. Sustainability is considered at every turn for this designer. Customers receive their thoughtfully-packaged gown in 100% sustainable packaging complete with a seeded Scout branded tag to plant and watch wildflowers grow. Fun fact, this company has also planted over 500 trees in the Amazon! Here's to doing good – always!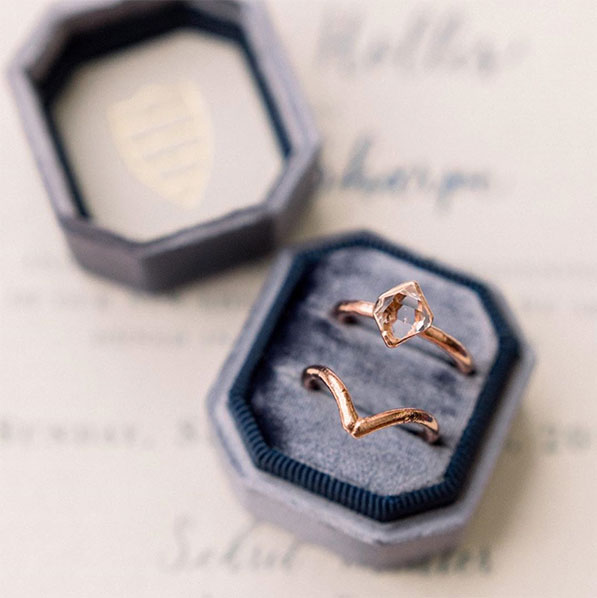 Ethically-Sourced Gemstones
RAW by Olivia Mar is a jeweler that ships worldwide that specializes in alternative engagement rings for the unconventional bride and groom, offering ethically sourced gemstones and always conflict-free diamonds. Honest jewelry for ethical living, RAW started from a fascination for the Earth's untouched beauty. Peruse their Instagram and it's like entering one of your favorite daydreams!
Bottom line, small steps lead to big change, and the decisions of many to take even those small steps can move the needle and have a positive impact on the planet. What other wedding companies do you know making sustainability a focus? Drop us a comment!
______
Written by Ashley Murphy