Most of the couples wedding pros are trying to attract fall into the Millennial and Gen Z market. This demographic loves their pets and incorporates them into their daily life more so than any previous generation. The average couple today is likely to have their pet play a part in their big day, whether that's being a dog-of-honor, ring bearer, or simply inspire the name of a custom cocktail. That's why we're highlighting 5 ways wedding venues are attracting pet-friendly couples — and how you can too!
PET-FRIENDLY WEDDINGS
In a recent survey of pet owners, nearly 40% said they included their pet in their wedding or engagement by having them play or part or being incorporated into the day.
Pet Statistics You Should Know
7 in 10 Millennials own a pet.
More than 50% are dog owners.
67% of millennials see their pet as part of the family — and would refer to them as a fur-baby.
Owners spend an average of $1,285 per year on their pet — and it's only growing.
The term dog-of-honor is a popular Google search and Instagram is full of fur-family members in adorable wedding-day attire.
This trend has been growing for the last five years and has seen an explosion in the wedding industry with businesses like The Pet Gal and Fairy Tale Pet specializing in wedding-centric pet coordination/care. (Do yourself a favor and watch Fairy Tale Pet's wedding videos from the pet's point of view for a dose of cuteness.) It's not just about dogs, either. Cats, pigs, goats, and horses all get in on the fun these days!
With trend forecasters projecting exponential growth in luxury pet care products and services over the next decade, wedding pros — especially wedding venues — should make pet-friendly wedding services something they offer to their clients.
We're going to cover 5 ways wedding venues are attracting pet-friendly couples currently.
5 WAYS VENUES ARE ATTRACTING MORE PET-FRIENDLY COUPLES
Pet-friendly couples make up a large section of the demographic wedding venues are trying to attract, so finding ways to help them with pet-friendly services can be the deciding factor in whether they go with your venue or not.
Let's talk about practical ways venues are reaching these couples.
1. Being Animal-Friendly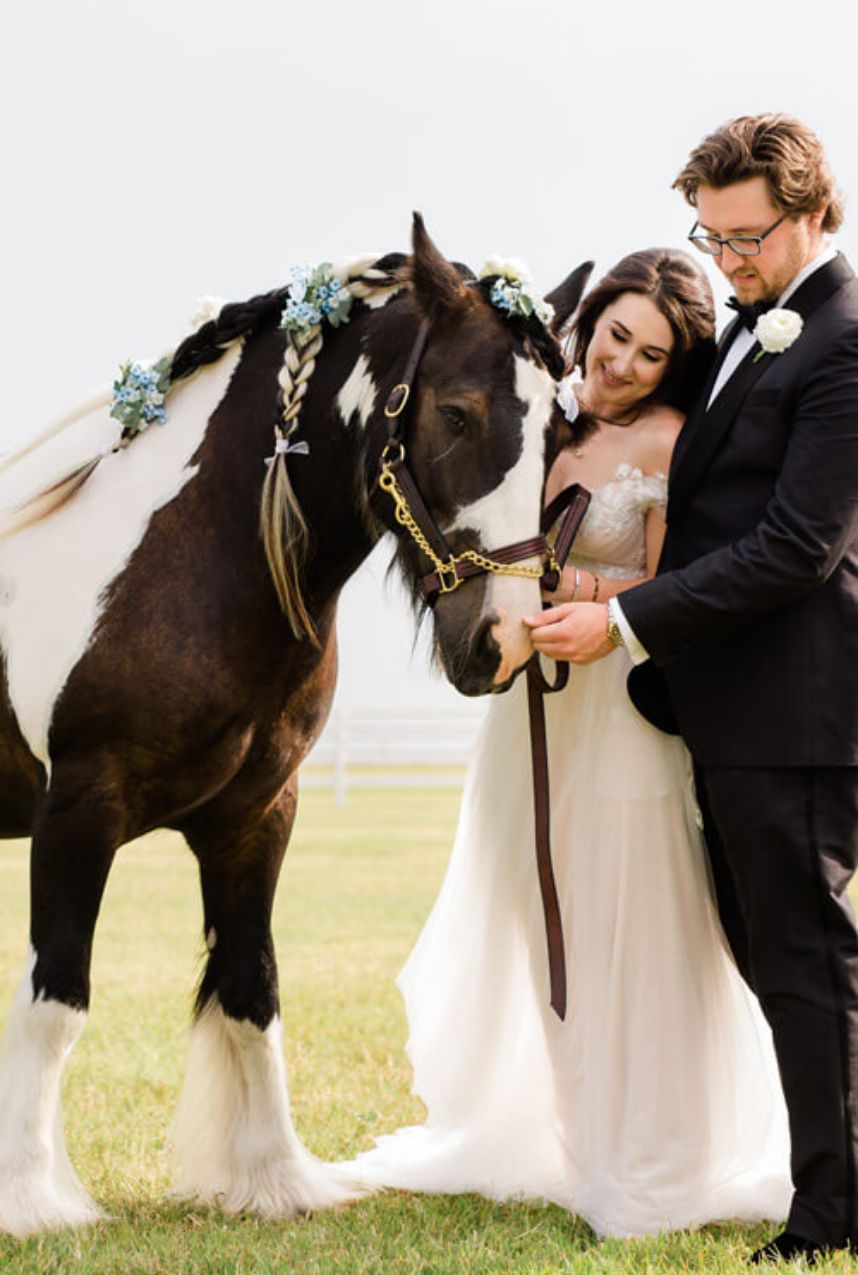 Photo Courtesy of Aspen Ranch
Pet owners tend to be animal lovers. In addition to making it possible for couples to make their fur-baby part of their big day, it goes along way with them when you are animal friendly. This could mean that your venue supports a local animal rescue or highlights the cause of adopting vs. shopping for pets.
Aspen Ranch makes their animal-friendly stance clear from the get-go and even dedicates space on their website to introduce you to their growing four-legged family of rescues.
In the case of Montage Palmetto Bluff Resort in South Carolina, they offer cuddles with their resident English labradors. For a $1,000 donation to a local animal shelter, they will dress their four pups up and let them be part of your big day.
The Takeaway:
If you are an animal-friendly venue or support related causes, make that clear on your website and showcase that in your social media or promotional materials.
2. Offering Pet-Specific Services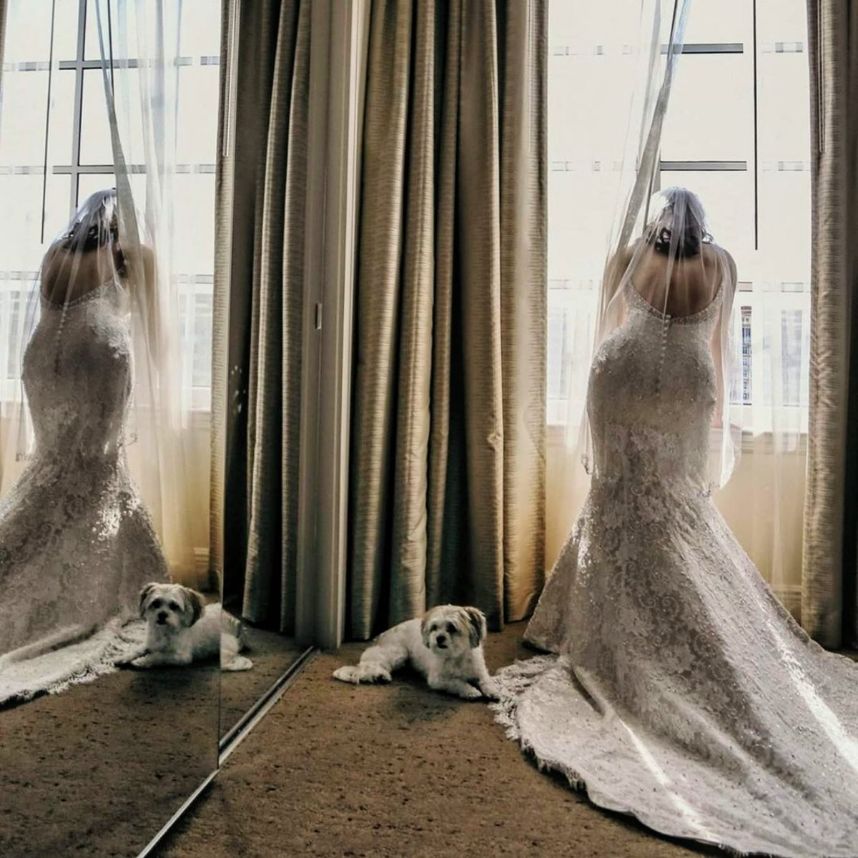 Photo Courtesy of Westin Cape Coral
In addition to being a pet-friendly venue, offering pet-specific services is a great way to edge out the competition. The Westin Cape Coral Resort at Marina Village in Florida takes this concept to a new level.
Pets get to enjoy spa treatments during their stay and the resort offers morning-after room service just for pets. During the event, pets get their own meals at the reception — such as filet mignon followed by desserts such as berries and bacon.
These types of services and products take a venue from accepting pets, to celebrating their part in the big day.
The Takeaway:
Pet-approved meals, treatments, or dedicated spaces for them to relax, etc. Finding ways to make pet-owning couples feel like their animal can be a seamless part of the wedding day will make you stand out among your competition.
3. Providing Licensed Care (or Recommendations) for Pets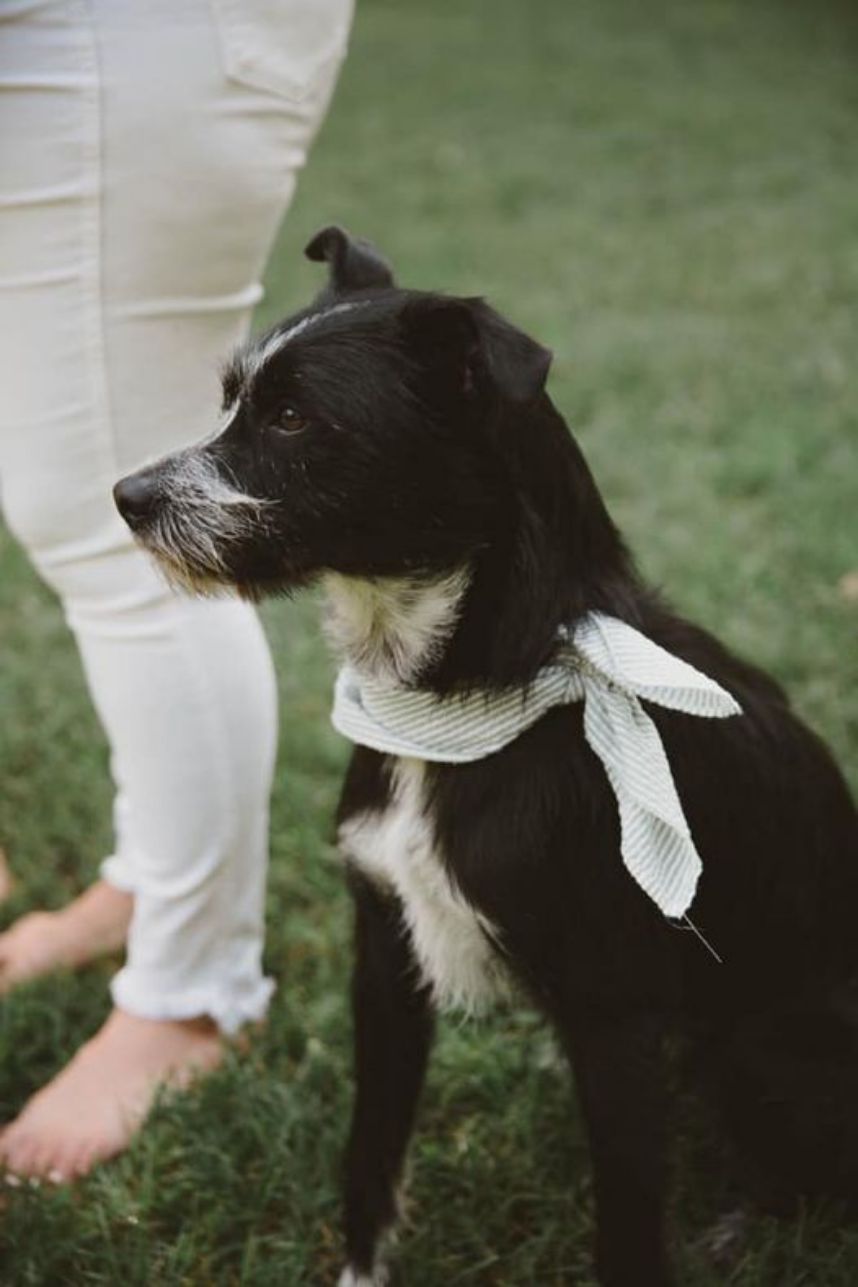 Photo Courtesy of The Gardens at Great Oaks
Couples are having to deal with lots of different vendors and moving pieces when it comes to wedding planning logistics. Venues that can simplify something for them are likely to win over pet-friendly couples.
The Gardens at Great Oaks enthusiastically welcomes pets as part of the event and even provides pet care from a licensed professional. This person can help manage the pet during the ceremony and reception as well as take the pet home for the couple.
Another option for venues with boarding capabilities is to help couples by boarding animals they are going to have in their ceremony. Aspen Ranch in Edmond, Oklahoma offers to board the couple's horses.
This takes something off the couple's plate and shows them that you are thinking of the small things. That means a lot when it comes to connecting with couples.
The Takeaway:
Think about ways to streamline services for pet-friendly couples and add to your potential sales through those services. Even if this service isn't something you want to provide directly, you will want to consider having recommended local vendors that can give them this service.
4. Making Their Pet-Friendly Status Clear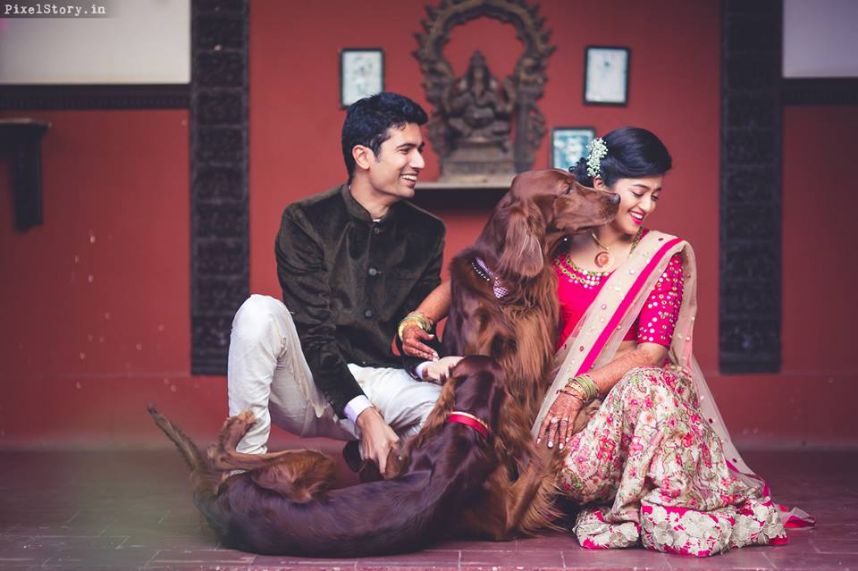 Photo Courtesy of Weddingz.in
The popular site Weddingz.in in India creates pet-centric articles that help highlight even luxury venues like the Four Seasons in Mumbai as pet-friendly wedding venues. It's important to make your pet-friendly status clear so that couples can easily find that information and third-party content creators can feature you.
Pet-friendly websites like Bring Fido, Rover, and more are constantly creating updated blog posts to feature wedding venues and hotels where pets are welcome. The same thing is true of wedding websites.
The Takeaway:
Ultimately, you never know where couples will find you, so it's important to make sure your site is clear about your pet-friendly status and that you list that information everywhere your venue details are listed online.
If you are pet-friendly, be sure to get listed on pet-related websites.
5. Helping Couples Plan Ahead
Photo Courtesy of Healing Place Manor
When it comes to pet-friendly wedding services, Healing Place Manor in the UK pretty much takes the cake. This award-winning hotel boasts specific pet-friendly rooms, a pet-approved menu in their celebrated onsite-pub, as well as being able to source pet grooming and more.
In addition to all that, they create helpful content that helps couples plan ahead. It's not enough that they have thorough information about their pet-policies on their site, their blog also features helpful content.
A good example is 8 Tips for Including Your Pet in Your Wedding Day. It's full of keyword-rich content that adds value and showcases their service at the same time.
The Takeaway:
Don't just let your pet-friendly status extend to the wedding day. Be helpful to pet-friendly couples well in advance by creating content that thelps them plan ahead.
Take this opportunity to review your pet-friendly status and consider adding related services if you already are a pet-friendly wedding venue. Be sure you are clear about the policies and restrictions as far as type or size.
Now that you're ready to share your pet-friendly status, be sure to check out our post on 10 Blog Topics Every Wedding Pro Can Use to Grow Their Business.
__
Written by Corrie McGee
Photo Courtesy of FairyTale Pet Care