DIY couples can feel like a thorn in the wedding pro's side, but it doesn't have to be that way. Like it or not, DIY wedding-related searches rank high in nearly every wedding planning category of Google search results. That's why we're covering six ways wedding pros can still be part of the DIY couple's journey.
UNDERSTANDING THE WHY BEHIND DIY
While there are many various reasons behind why couples choose the DIY wedding, we're going to look at the two most common.
Budget-Related Reasons
Creatively-Driven Reasons
Budget-Related
It's important to keep in mind that budget-conscious couples aren't always dealing with small budgets. A potential way to reach this DIY'er is to showcase how your service (at its normal price) will save them time — which is money — and literally money in the long run.
This couple is conscious of waste and focused on the best use of their funds, which means there's an opportunity to showcase the value of your service to them. This is where helpful content comes in as a low-cost investment towards reaching DIY'ers. Another route is offering a la carte services where it works within your business model. Showcase how they are only paying for what they want.
Creatively-Driven
The couple that chooses the DIY-route because of creative reasons provides the opportunity to serve them in a slightly new way — by seeing them in a new light. These types of couples are truly closer to related vendors. They are looking for supplies in raw form and for wholesale-style pricing.
This is where many wedding pros (planners and venues, etc.) are turning supplies into rentals as well as other creative solutions. Even DIY couples don't necessarily want to buy 20 geometric candle holders, but wouldn't mind renting them. These couples may often still be open to design help, such as bringing their concepts together in a curated mood board with practical steps to take. They are also still open to month or day-of coordination among other services.
In summary — Don't be so quick to throw the baby out with the bathwater when you hear the term DIY couples. They are a large demographic and worth a second look to see how your company may be able to expand or re-evaluate your services to support their needs.
NOTE: It's important to note that you should consider these ideas within the scope of your business model. You need to make a profit, not just add to your workload.
Let's talk about the ways wedding pros can be part of the DIY couple's journey!
6 WAYS WEDDING PROS CAN BE PART OF THE DIY COUPLE'S JOURNEY
There are many ways wedding pros can be part of the DIY couple's journey — but we've narrowed the list to the top six most practical for you.
(Be sure to stick around until the end. We saved one of the best examples for last!)
1. Level Up Direct-to-Consumer Rentals with Comprehensive Packages.
Just because a couple wants a DIY wedding doesn't mean they are looking forward to every single detail they have to tackle. Wedding Pros that can simplify the styling process with pre-designed comprehensive packages are sure to win over couples looking to get their basics in one place.
For example, Loot Rentals created a special offer in this new COVID wedding season that includes pre-designed wedding rentals that pair perfectly together — and couples can add their own unique touches in decor elements. These easy-to-understand packages include one for a Backyard Wedding (which is becoming a more popular option during this time) that comes with a table, chair options, charges, plates, napkins — essentially every single basic element needed for guests to eat. As a bonus, they also include a free Turkish Ceremony Rug.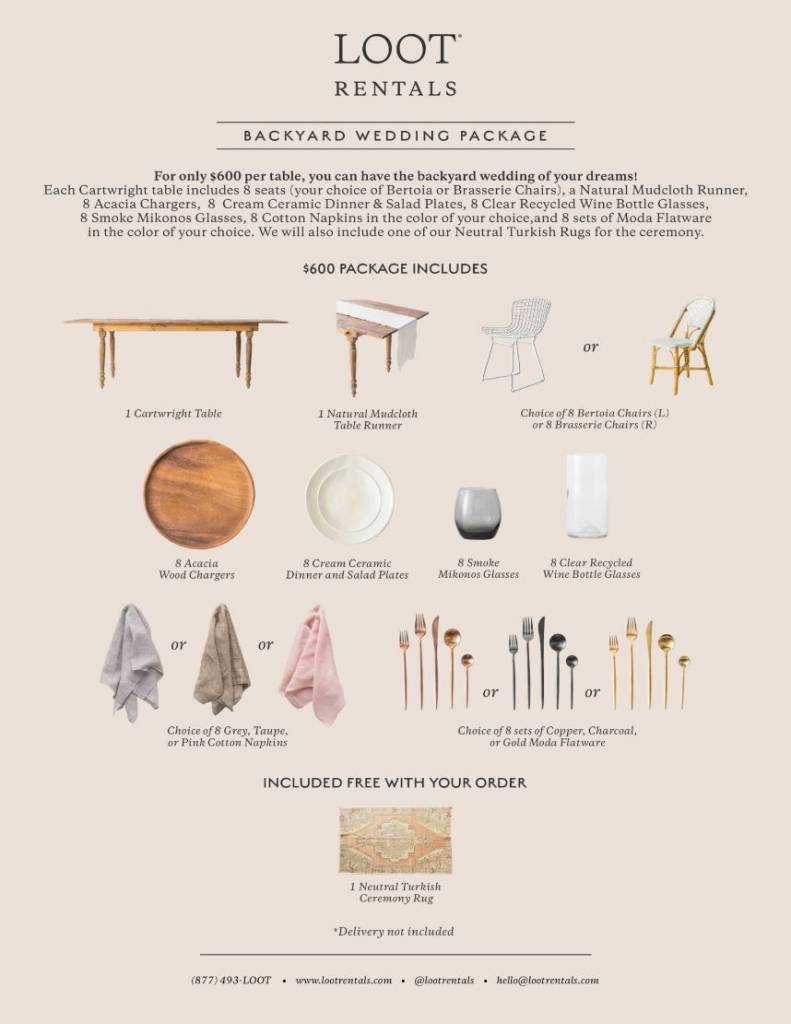 Image Courtesy of Loot Rentals
Additionally, Loot has offerings for events like a Backyard Movie Night or Intimate Dinner Party — all of these work ideally with pre-wedding activities that might also be on the DIY wedding to-do list.
Elements that remove the stress of having to style a cohesive look and allow the couple to pick and choose exactly what they need — and no more — are excellent ideas to win over the DIY couple.
2. Create Customized Plans for the DIY Couple's Wedding.
The DIY couple may want to do things themselves, but that doesn't mean they wouldn't welcome a little professional help. Where Loot created a pre-packaged offer, other wedding pros are creating customized plans for couples.
This is a potential opportunity for wedding planners and designers. Where couples may not want the full service, there are still ways to help them get the benefit of professional design. Ira and Lucy is a wedding design planning company that offers custom design and styling plans.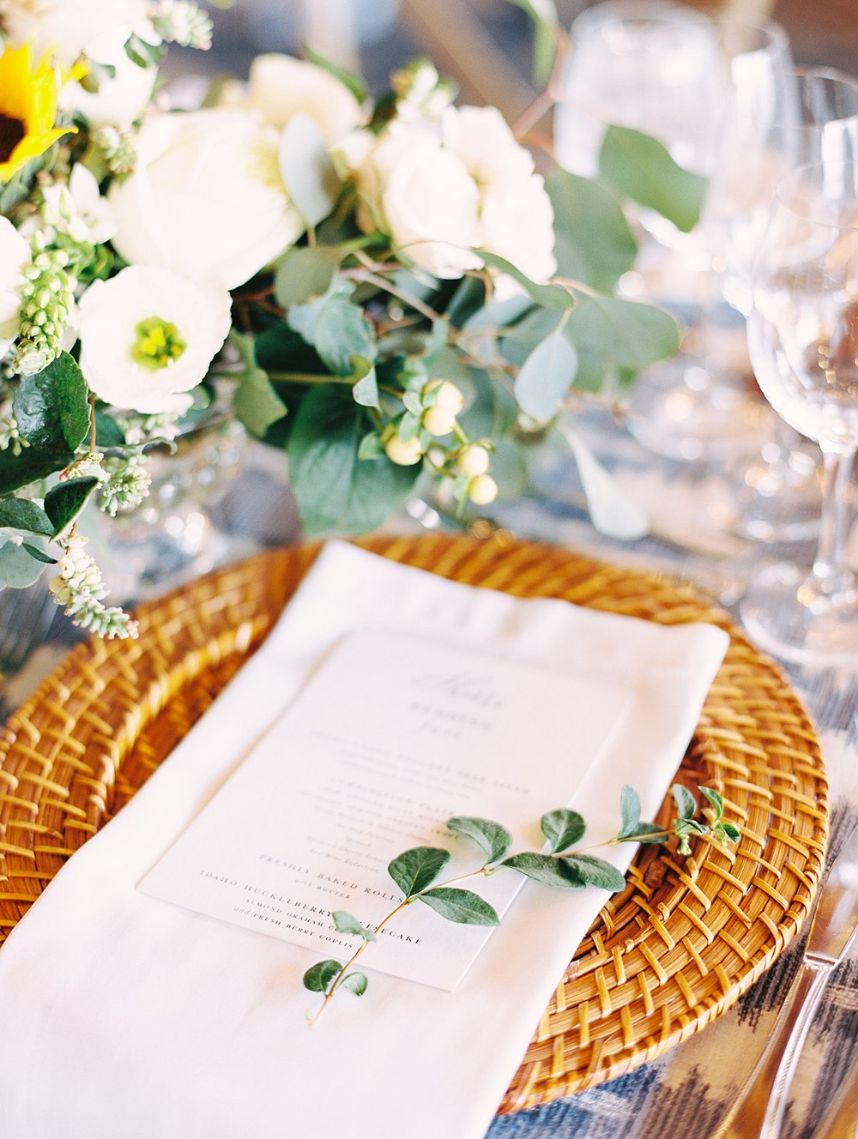 Photo Courtesy of Ira and Lucy
DIY couples can get a comprehensive design scheme from their designer as well as custom design boards, venue layout schematics, and even table-top mockups.
While not every DIY couple is looking for professional design — if this is something you specialize in, consider testing a DIY-specific service offering. For those couples who have ideas, but aren't sure how to bring them together this service is a life-saver.
Even if you're not a designer/planner — ask yourself if there is an applicable version for your vein of the wedding industry.
3. Offer Training and Workshops with Expert Guidance.
Don't be afraid of offering classes or some type of training for the DIY couple. Couples will rarely be swayed into DIY if they aren't already interested and you will be able to win part of the market you weren't reaching before. Companies like Cass Flowers and School of Floral Design offer Wedding Weekends where they train couples or wedding parties on how to create the wedding flowers of their dreams.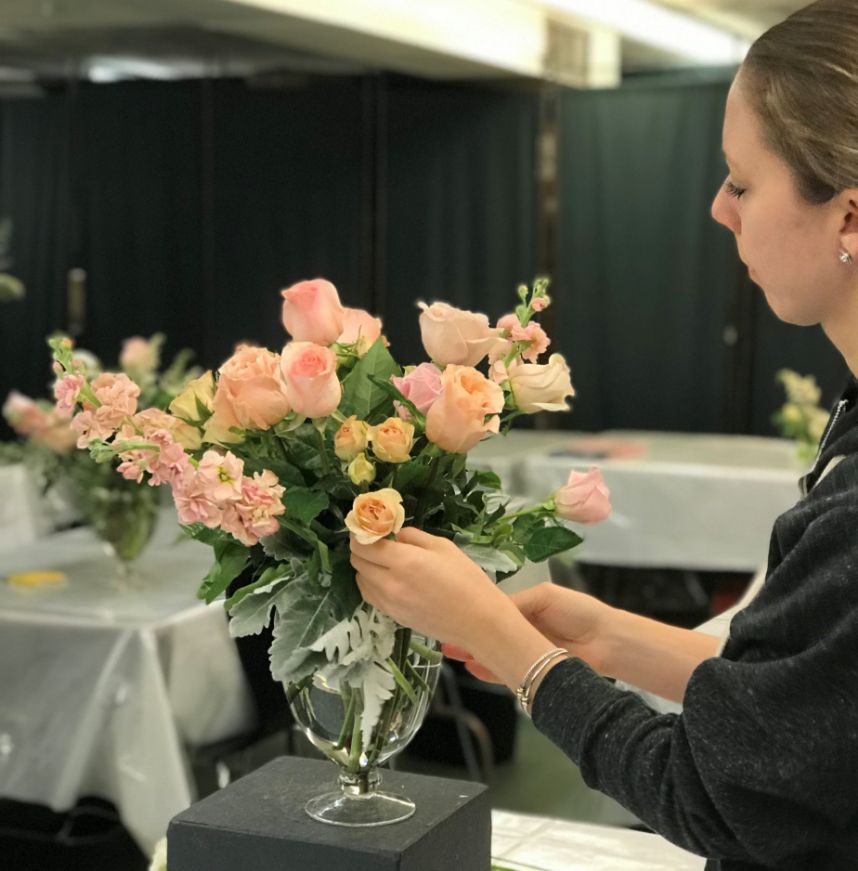 Photo Courtesy of Cass Flowers and School of Floral Design
From centerpieces and bouquets to corsages and boutonnieres, experts are offering the laymen opportunities to safely assemble their own creations which cuts down on cost, but ensures that the florists don't lose out on the sale.
4. Add A La Carte Services to Your Menu.
Aptly named, A La Carte Event Planning specializes in this type of service — and it's something other wedding pros should take note of. People are used to getting to pick and choose their services now days, so this type of menu appeals to modern modern couples of all kinds, but especially the DIY couple.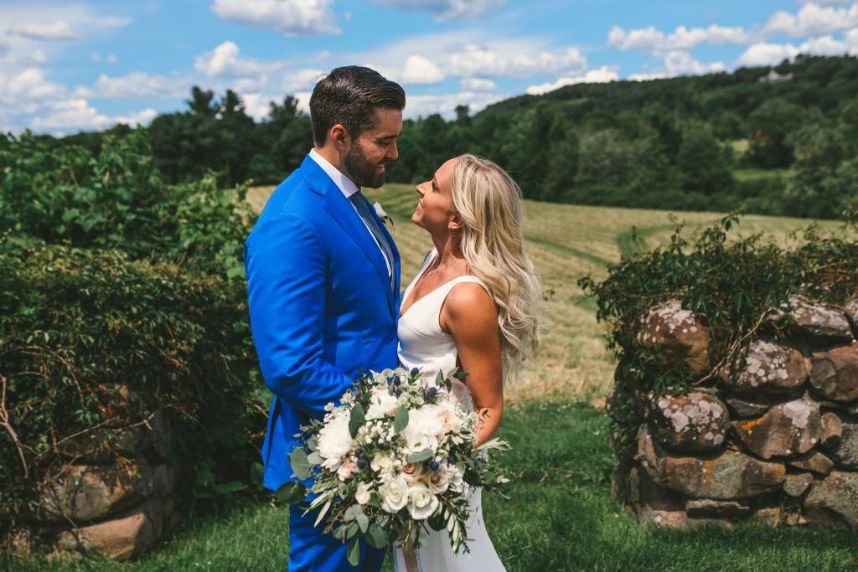 Photo Courtesy of A La Carte Event Planning
A La Carte's entire business model is built around helping people create a custom package that meets their needs — whether it's for a self-planner or someone looking for white-glove-level service.
DIY Couples want to make sure they can get customized packages that help them avoid paying for extras they aren't going to use or can't afford— and this allows them to do that.
While you may not be able to offer a complete a la carte-style menu, take time to review your services to see if a la carte services are an option for you.
5. Create Custom Orders that Become Future Heirlooms.
Remember that not all DIY couples are dealing with low-budgets. In fact, because they are often judicious with their purchases, this makes them a potential candidate for quality products that will last a lifetime. Custom jewelry — such as engagement or wedding rings — is an area they may be willing to invest in.
Photo Courtesy of Naifeh Fine Jewelry
Naifeh Fine Jewelry specializes in custom pieces. In appealing to DIY couples, companies like this do well to highlight how they can rework old pieces from the family to become something unique and new for that couple. This idea of maximizing resources is very appealing to that demographic.
6. Help the DIY Couple Along with How-To Content.
Flower Moxie is the best example of creating how-to content for the DIY couple — as well as helping that demographic determine if DIY is for them. The beauty of this method is that you have the opportunity to help your customer avoid needless headaches if it's not right for them and you keep their business if it is.
(Do yourself a favor and visit their DIY flower guide page to get inspiration for your own wedding business. It's pretty amazing!)
They break their DIY offerings into color palettes. The sample image below is for their Peaches & Cream.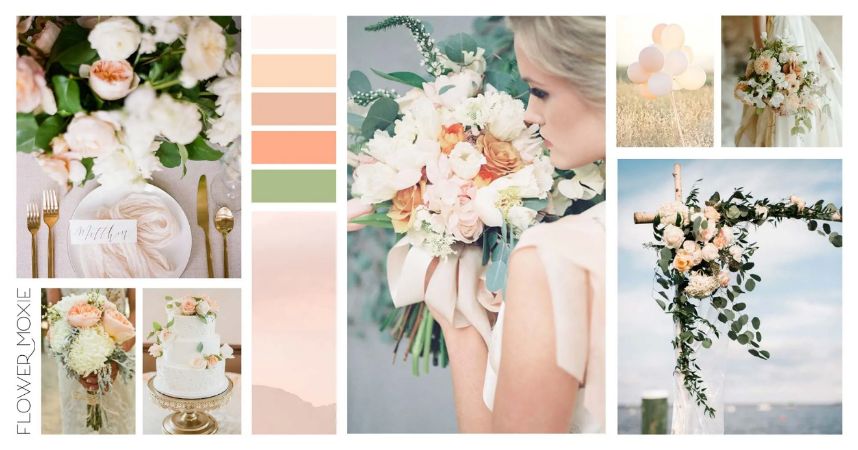 Image by Flower Moxie
Then they walk couples through every imaginable question from package size to a la carte options. Flower Moxie even breaks it down into the exact number and types of flowers as well as the exact arrangements they make — and even alternative options.
It is, however, their How-To library of videos that makes them stand out among their competitors when it comes to serving the DIY demographic.
Here's a sample of their extensive, topical library —
REACHING THE DIY COUPLE
We've covered just a handful of great ideas to get you thinking — or maybe rethinking — if you're reaching the DIY couple the way you want to!
Whether it's through product offerings, services — or even simply helpful content — don't overlook this large demographic in your business model.
_
Written by Corrie McGee